Hudson, N.Y.
- From September 17 through September 19, 2013, The Olana Partnership is pleased to offer
Painting the Living Landscapes of Frederic Church,
a unique getaway package to the beautiful Hudson Valley in New York State.  Artists will discover Olana State Historic Site, the home and surrounding landscape of renowned 19
th
century landscape artist Frederic Edwin Church, which overlooks the Hudson River and majestic Catskill Mountains.  Participants will view Church's artwork from Maine in Olana's 2013 exhibition "Maine Sublime" in the
Evelyn and Maurice Sharp Gallery
located on site.  Learn new artistic techniques in the two-day en plein air watercolor workshop with internationally respected watercolor artist Evelyn Dunphy (www.evelyndunphy.com) hailing from West Bath, Maine.  Following Dunphy's visit to Olana in August 2012 she states, "Chapters could be written describing the incredible detail of the House and furnishings.  But what I found most exciting and would love to share with you are the 'living landscapes' that Church framed in this palatial home that he designed."    The workshop will engage your senses, move your painting to a higher level of personal expression, and provide you with as much personal attention as needed.  Be inspired from the picturesque and historic views at Olana and enhance your ability to express the beauty of the landscapes in your work.  Dunphy will teach how to simplify shapes, minimize the unessential, crop, compose, and build a strong composition that enables you to enjoy seeing pigments mix and dance on your paper, while simultaneously exaggerating your passion.  Be a poet rather than a reporter, paint light and color, shadow, and develop your ability to really "see" the landscape.  Each day will include demonstrations; of the subject matter chosen for the day, and specific issues that students may encounter.  Dunphy comments, "My intention is to expand each student's vocabulary of watercolor techniques so that they are able to paint their personal statement of what they see and feel about a specific location."  Artists will also view paintings from Church's camp on Millinocket Lake, including a print of Church's painting
Katahdin from Millinocket Lake
that is part of the collection in the Portland Museum of Art in Portland, Maine. They will see photographs of the camp's interior and exterior, and learn about the historical relevance of the camp in Church's life. Evelyn Dunphy received the first prize for the National Watercolor Society 2012 All-Members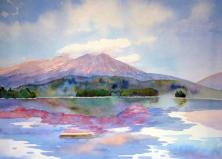 xhibition, in addition to the Daniel Smith Award, Canadian Society of Painters in Watercolor, and first prize for the Art in the Maine State Parks Exhibition.  Dunphy was also the 2013 Finalist in the Richeson National Still Life & Floral competition and Cover Art: "A Collection of Poems & Lyrics" by Kate Barnwell, London, UK.  Her work has also been exhibited in juried exhibitions throughout the United States.  Dunphy is a signature member of the New England Watercolor Society and is a member of the Allied Artists of America and the International Guild of Realism.  Dunphy's work had been featured in
American Art Collector, International Artist, 2011 Best of American Watercolors, 2012 Artistic Touch 5, Down East and Watercolor Magazine.
   Artists that have worked with Dunphy state, "Evelyn Dunphy is one of those unique artists who can effectively convey her years of knowledge and experience to her students.  She takes the fear out of learning watercolor."  Another participant from Ohio states, "Dunphy's comprehensive explanations of the components that contribute to a fine painting are really invaluable." Accommodations are made at the historic Mount Merino Manor Bed and Breakfast, a short one-mile drive from Olana State Historic Site.  Mount Merino Manor sits on a lush hilltop, surrounded by 100 acres of shaded woodlands.  This stately Victorian has magnificent views of the Catskill Mountains and Hudson River.  The bed and breakfast is home to seven spacious guest rooms and suites.  Beautiful views, candle-lit fireplaces, whirlpool tubs and spa-jetted showers make this an ideal getaway.  Mount Merino Manor Bed and Breakfast is one of the original Hudson Valley estates and has been privately owned since it was built by Frederic Church's friend and physician in the 1870s.  Please visit www.mountmerinomanor.com to view the selection of rooms available. Innkeepers Rita and Patrick Birmingham invite you to share these tranquil surroundings and enjoy the Hudson Valley region that is so rich in New York State history, culture, and natural beauty.   Space is limited.  Rooms will be available on a first come, first served basis.  A separate price package is available for local artists who do not require bed and breakfast accommodations.  Please visit www.olana.org for more information.  Registration and payment in full must be made upon registration. 
Registration deadline is Friday, June 7
.  Contact Sarah Hasbrook, education coordinator for The Olana Partnership, at shasbrook@olana.org or call 518-828-1872 x 109 for more information and to make reservations. 
About Olana and The Olana Partnership
The eminent Hudson River School painter Frederic Edwin Church (1826-1900) designed Olana, his family home, studio, and estate as an integrated environment embracing architecture, art, landscape, and conservation ideals.  Considered one of the most important artistic residences in the United States, Olana is a 250-acre artist-designed landscape with a Persian-inspired house at its summit, embracing unrivaled panoramic views of the vast Hudson Valley. Olana State Historic Site, a historic site administered by the New York State Office of Parks, Recreation and Historic Preservation, Taconic Region, is a designated National Historic Landmark and one of the most visited sites in the state.  The Olana Partnership, a private not-for-profit education corporation, works cooperatively with New York State to support the restoration, development and improvement of Olana State Historic Site.  To learn more about Olana and The Olana Partnership please visit www.olana.org.
###
Media Contact:
Sarah D. Hasbrook Education Coordinator (518) 828-1872 x 109
shasbrook@olana.org