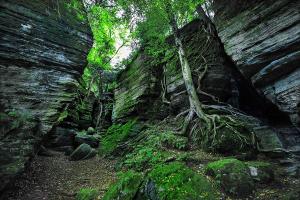 Panama, N.Y. – Panama Rocks has just been listed as the #1 Ranked Trail in New York State by Inspirock - a world-wide travel/trip-planning service covering 47,000 destinations across 226 countries.
Inspirock's ranking system takes into account reviews from TripAdvisor, Google, Facebook to determine their rankings based on independent guest reviews, which makes its ranking system one of the most comprehensive in the world. Inspirock was founded in 2012 and expanded to include destinations in the United States in 2015.
"We are honored to be ranked so highly among so many other amazing parks and trails" said Panama Rocks Manager, Jonathan Weston. "Panama Rocks is a very special place where all ages - young children, teenagers, adults, and grandparents - can have fun together while connecting to nature and exploring incredibly beautiful caves, crevices, and passages hidden among an ancient forest."
When asked how Panama Rocks became so highly rated, Jonathan said it all has to do with how enjoyable it is for guests who visit the park. "We are incredibly grateful for our many visitors who help keep Panama Rocks open to the public and for their amazing reviews and feedback which has made the Panama Rocks so highly ranked on various travel review sites."
Panama Rocks was established in 1885 before the State Park system was created (Niagara Falls was the first State Park in the United States and was also founded in 1885) and is entirely funded by its guests through a small admission fee. In the early 20th Century Panama Rocks hosted famous guests such as James Ward Packard, who visited the park on his honeymoon, and Thomas Edison.
The main trail at Panama Rocks is just about one-mile long, but guests are welcome to hike and explore off-trail at their own risk. While the main trail is a hiking trail, it is accessible to guests who can walk one-mile on uneven ground.
In 2018 Panama Rocks opened an axe-throwing range (for guests age 11+). "It's like throwing darts, but a lot more fun" says Weston. "Axe throwing is safer than it sounds and we use both trained instructors and fencing to ensure that our guests have a great time and remain safe". Axe throwing has seen a recent rise in popularity, with hundreds of axe ranges opening across the United States and Canada in the last few years.
Panama Rocks is open daily from the first weekend of May through the last weekend of October, 10:00AM to 5:00PM. Detailed information, including information on axe throwing hours and reservations, are available online at www.PanamaRocks.com.
###
Press Contact:
Jonathan Weston
Panama Rocks
Cell: 607-316-1436
Email: Jonathan@Panamarocks.Com