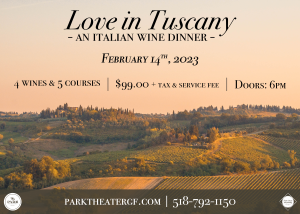 February 14th, 2023
Featuring a 5-course prix fixe menu and hand-selected wine pairings
Glens Falls, N.Y. -- Let us transport you to the romantic countryside of Tuscany! Join us for a special Valentine's Day wine dinner featuring a 5-course prix fixe menu and hand-selected wine pairings. Take a culinary journey through the heart of Italy with an extraordinary prix fixe menu curated by executive chef, Matthew J. Delos. Exploring the decadent flavors of the Tuscan countryside, this menu is the perfect romantic dining experience! 
Park Street Hospitality's operations manager, Ben Miller, has teamed up with Kelsey Mathusa of Monsieur Touton Selection, LTD. to select wines for each course, highlighting the stunning terroir of the Tuscan region and some of its top producers. 
Prix Fixe Menu & Wine Pairings:
First Course:
Assorted Local and Imported Charcuterie | house-made focaccia
Amuse-bouche | house-cured duck prosciutto, fava bean purée, cherry mostarda
Brut Rosé, Bollomatta, Bibi Graetz, NV – Tuscany, ITA
Second Course: 
Fazzoletti with Ham Hock & Tuscan Kale | ricotta di pecora, sage brown butter 
Bardolino Chiaretto Classico, Vigne Alte Rosé, Zeni, 2021 – Veneto, ITA
Third Course:
Panzanella | grilled romaine lettuce, oven roasted tomatoes, red onions, cannellini bean dressing 
Bardolino Chiaretto Classico, Vigne Alte Rosé, Zeni, 2021 – Veneto, ITA
Fourth Course:
Chianti Braised Oxtail Ragú | rutabaga and potato gratin, pearl onions, pecorino bread crumbs, natural braising juices
Bolgheri Rosso, Michele Satta, 2020 – Tuscany, ITA
Fifth Course:
Castagnaccio (Tuscan Chestnut Cake) | rosemary, raisins, dried fruit
Vin Santo del Chianti, Bellini, 2012 – Tuscany, ITA
View full menu and wine pairings here. 
Further Information:
Tickets are $99.00 per person (+ tax and service fee).
Doors open at 6:00pm.
The Park Theater is located at 14 Park Street, Glens Falls, NY, 12801. 
For more information and to purchase tickets, visit parktheatergf.com or phone 518-792-1150.
###
For media enquiries contact:
Anita MacDonald
Marketing - Park Street Hospitality, LLC (15 Park St., Glens Falls, NY, 12801)
E: marketing@pshospitality.com | P: (518) 792-1150
W: parktheatergf.com | FB: @TheParkTheaterGF | IG: @theparktheatergf