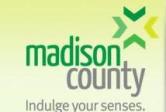 Wampsville, N.Y.
- Visit eight of twelve Cultural and Historical sites in Madison County over the summer and fall and you will have the chance to win an I-Pad.  That's the big prize in a promotion unveiled today at a press conference in Wampsville.  Twelve cultural and historic sites across Madison County have banded together to create the Cultural and Historic Attraction Passport Program.  The goal is to encourage visitation during the summer and fall of 2012.  Each time a visitor stops at one of the locations they will receive a stamp in the passport.  When they are finished, they will turn in their entry forms.  In December all of the entries will be combined and a winner of the I-Pad will be chosen.  Madison County Tourism executive director Jim Walter explained the importance of the program, "We have fantastic museums, music venues and cultural sites in the county.  This passport program is an effort to introduce visitors to all of the sites in the county.  If someone stops at the Chittenango Landing Canal Boat Museum, they will quickly learn about the Canastota Canal Town Museum just 5 miles down the road.  The more exposure we can give to our historic sites and museums the more visitors we will bring to the county." Visitors to cultural and historical sites on average, spend more money than the typical visitor.  This program is designed to attract more of those tourists to Madison County, and to get them to stay longer by showcasing the variety and number of sites available to visit. The participating sites include: The Oneida Community Mansion House, Canastota Canaltown Museum, Chittenango Landing Canal Boat Museum, Lorenzo State Historic Site, National Abolition Hall of Fame and Museum Catherine Cummings Theatre, Cazenovia College Art Gallery in Reisman Hall Earlville Opera House, Madison County Historical Society, Stone Quarry Hill Art Park, Gerrit Smith National Historic Landmark, and the Cazenovia Public Library. Visitors will be able to pick up the passports at any of the participating museums, tourism information kiosks inside the Colgate Bookstore in Hamilton, the Madison County Visitor Center on Route 20 in Bouckville, Oneida Commons in Oneida, the county office building in Wampsville, outside of Cazenovia Artisans in Cazenovia and at local chamber of commerce offices in Oneida and Cazenovia.  The passport is also available online at
http://www.madisontourism.com/
under history.  The passport was made possible in part by a donation from the Upstate Institute at Colgate University.
###
Contact
: Jim Walter 315-684-7320 or 315-427-5619
jimwalter@madisontourism.com