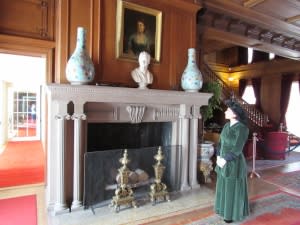 Staatsburg, N.Y.  – Staatsburgh State Historic Site will mark New York's "Path Through History Weekend" on June 16 and June 17 with two special tours.  Path Through History Weekends are a showcase of New York State's rich and fascinating history and will feature hundreds of events happening at historic and cultural destinations throughout the state.  For more information about Path Through History events, visit the website at https://paththroughhistory.iloveny.com/history-events/path-through-history-weekend/#.Wxba_28rKUk
Staatsburgh was the home of prominent social hostess Ruth Livingston Mills and her husband, financer Ogden Mills.  The estate's 79-room mansion on the Hudson River, filled with original art and furnishings, showcases the opulent lifestyle enjoyed by the wealthy elite of the early 20th century.  The mansion is surrounded by a stunning landscape and paths for walking along the river.
On Saturday, June 16 at 1p.m., fans of the popular British television series Downton Abbey can visit Staatsburgh to take a tour called America's Elite in the Downton Abbey Era.  A costumed guide will highlight Staatsburgh's real-life counterparts of the series' fictional characters, noting the specialized role each servant played and how the house functioned during a busy weekend of entertaining. The tour also describes the marriage between the Millses' daughter Beatrice and the 8th Earl of Granard, part of a period trend in which wealthy American heiresses — like Downton Abbey's Cora — wed titled gentlemen across the ocean.
On Sunday, June 17 at 1p.m., Staatsburgh will offer a special tour called "World War I and the End of the Gilded Age," focusing on the impact of the war on the Gilded Age and on the Mills family.  The Millses' son, Ogden Livingston Mills, quit his job as a New York State Senator to join the army, and the Millses' Paris home became American General John J. Pershing's headquarters in France.  An exhibit currently on view at Staatsburgh features an engraved silver tray given to the Millses by General Pershing to thank them for the use of their home.  
By the war's end in 1918, changes in society – including the enactment of the income tax – ushered in a new era.  Within a generation of being built, many of the great mansions of the Gilded Age were gone, abandoned by families that could not afford them or no longer celebrated ostentatious displays of wealth.  Staatsburgh remains as a time-capsule of the Gilded Age, with its original furnishings intact. 
Reservations are required for both tours and can be made by calling (845) 889-8851, extension 336.  The cost is $10; $8 for students and seniors; children 12 and under are free.  The tours will last 90 minutes, and will include the unrestored servants' area in the basement of the mansion. 
Staatsburgh State Historic Site and the Ogden Mills & Ruth Livingston Mills Memorial State Park are located on Old Post Road in Staatsburg, off Route 9 between Rhinebeck and Hyde Park. The historic site is one of 6 sites and 15 parks administered by the Taconic Region of New York State Office of Parks, Recreation and Historic Preservation. For more information, call 845-889-8851, or visit Staatsburgh's websites at https://parks.ny.gov/historic-sites/25/details.aspx; www.facebook.com/StaatsburghSHS and Staatsburgh's programs are listed at https://parks.ny.gov/events/event-results.aspx?hs=25
The New York State Office of Parks, Recreation and Historic Preservation oversees more than 250 parks, historic sites, recreational trails, golf courses, boat launches and more, which are visited by 71 million people annually. A recent study found that New York State Parks generates $5 billion in park and visitor spending, which supports nearly 54,000 jobs. For more information on any of these recreation areas, call 518-474-0456 or visit http://www.parks.ny.gov/, connect with us on Facebook ,or follow on Instagram and Twitter.
###
Contact:   Donald Fraser | Donald.Fraser@parks.ny.gov | (845) 889-8851 ext. 338