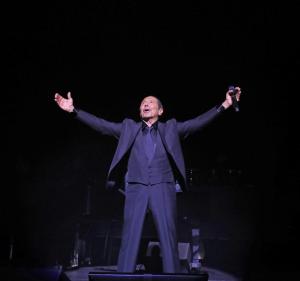 Tickets now on sale for the Nov. 20 show
Waterloo, N.Y. - Paul Anka is bringing his "Anka Sings Sinatra: His Songs, My Songs, My Way" tour to del Lago Resort & Casino's The Vine Showroom at 8 PM on Sat., Nov. 20, 2021. Tickets start at $49 and are now on sale to the general public, available online at https://dellagoresort.com/entertainment/.
"The 'Anka Sings Sinatra' tour will honor a great artist who has influenced me more than anyone else throughout my career, Frank Sinatra," stated singer and entertainer Paul Anka. "This show will also feature the hits that have spanned my career on this 65th anniversary year. It will be a night filled with his songs, my songs, my way!"
Named the 21st most successful artist in Billboard's history, Paul Anka is the only artist in history to have a song in the Billboard Top 100 during seven consecutive decades. In addition to top hits like "Lonely Boy," "Puppy Love," "Having My Baby," and "My Way" – which has been recorded by over 500 artists worldwide, including Frank Sinatra and Elvis Presley, Anka is known for writing the famous theme song from "The Tonight Show Starring Johnny Carson." The internationally acclaimed singer/songwriter is the recipient of a star on both the Hollywood and Canadian Walk of Fame.
Most recently, Anka released a stunning new duet of "Put Your Head On My Shoulder" featuring Olivia Newton-John off his upcoming album, Making Memories.
"We are excited to bring the legendary Paul Anka back to del Lago. His music has transcended time and this performance will definitely excite our audience," said Jason Klug, Director of Entertainment at del Lago Resort & Casino. "With our most recent acts added to our lineup – and more to come soon, we can proudly say The Vine Showroom is back as the region's premier indoor entertainment venue."
"Anka Sings Sinatra: His Songs, My Songs, My Way" is the third act announced this month for del Lago's The Vine Showroom. In addition to their currently on sale lineup, Paul Anka joins recently announced shows by Nikki Glaser and Ludacris.
Following the state guidelines released last week, vaccination is not required for attendance and fully vaccinated guests are not required to wear face coverings. Unvaccinated guests in attendance are still required to wear proper face coverings. No proof of vaccination will be required.
Guests must be 21 to attend all shows at The Vine. Tickets are also on sale for additional upcoming performances and rescheduled shows, already announced at The Vine, including:
One Night With Nikki Glaser – Jul. 10, 2021
Grand Funk Railroad – Aug. 6, 2021
Johnny Rivers – Sept. 11, 2021
Hairball – Sept. 18, 2021
Petty Fest VIII – Oct. 1. 2021
Styx – Oct. 2, 2021
Michael Carbonaro Live! – Oct. 8, 2021
Little River Band – Oct. 9, 2021
Ludacris – Oct. 15, 2021
Trace Adkins – Oct. 16, 2021
Colt Ford – Oct. 30, 2021
The Clairvoyants – Nov. 19, 2021
Winger – Dec. 4, 2021
Sara Evans – Dec. 11, 2021
Tracy Morgan No Disrespect – Apr. 2, 2022
Jay Leno – Jun. 10 & 11, 2022
Updated guidelines for The Vine Showroom and show FAQs are available at: https://dellagoresort.com/entertainment/
###
About del Lago Resort & Casino
Located in the Finger Lakes region, del Lago Resort & Casino is a $440 million casino and 205-room hotel in Waterloo, New York. The gaming floor features slot machines, gaming tables and DraftKings Sportsbook at del Lago, a 6,000-square-foot state-of-the-art sportsbook lounge complete with a restaurant and bar. Dining options include the award-winning Portico by Fabio Viviani, a 4,200-square-foot food court and The Sociale Café & Bar. del Lago Resort & Casino has been named the No. 1 casino hotel in New York State and among the top five in the country in the 2019 USA Today 10Best Readers' Choice travel awards. It also home to The Vine, a 2,400-person entertainment center, voted 2019 Showroom of the Year by the Global Gaming Casino Entertainment Awards. For more information, visit delLagoResort.com. 
Website | Facebook | Twitter | Instagram
About Peninsula Pacific Entertainment (P2E)
Peninsula Pacific Entertainment (P2E) owns and operates del Lago Resort & Casino along with other premium gaming venues that focus on outstanding service and exceptional quality. We are committed to improving life in the areas where we live and do business. With thousands of team members nationwide, we believe it is our responsibility to be good citizens and add value to the many communities in which we operate.

Media Contact:
Colleen Onuffer
Break the Ice Media
O: 585-394-0787 x2
C: 716-864-1263
del Lago Resort & Casino Contact:
Crystal Paolelli
Director of Marketing
Crystal.Paolelli@dellagoresort.com
O: 315.946.1614