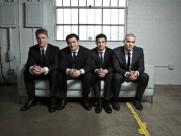 Unprecedented Response to TV Appearances and First Leg of Tour Chicago-based A Cappella Group Gentleman's Rule Open for UTSL
Schenectady, N.Y. -
Under The Streetlamp
, the fearless foursome of vocalists on a mission to breathe new life into the American Radio Songbook, are back on the road for a 32 city tour that begins in Sioux City, Iowa on October 16th. These four magnetic vocalists will bring their unique blend of tight harmonies and slick dance moves to Proctors arts and entertainment complex on Thursday, October 25. The quartet is composed of recent leading cast members of the smash hit
Jersey Boys
: Michael Cunio, Michael Ingersoll, Christopher Kale Jones and Shonn Wiley. Perennial audience favorites, Streetlamp - with its joyous take on early rock & roll, doo-wop and Motown classics - has just completed a wildly successful series of concerts across the country. Their live show ,taped at the Star Theatre in Indiana, has aired more than 1500 times on PBS stations across the country, reaching over 90 percent of the US market, making it one of the highest rated shows on PBS in the last 12 months.    Formed in Chicago in 2010, the members of Streetlamp all performed in various touring companies of the Tony Award winning hit "Jersey Boys".   But the four lead singers realized that their devotion to these classic tunes, required forming their own supergroup that could revitalize the hits for audiences of all ages. While touring locally in the Chicago area, they quickly earned a fan base and attracted the attention of manager Charlie Blum. "I was instantly struck by the boys clearly authentic love for this music, their amazing showmanship and rapport with one another and nightly standing ovations throughout the show. It's one big party for audiences of all ages," commented Blum, who also runs the Star Theatre in Chicagoland. Some recent raves for
Under The Streetlamp
:
"The group is not an extension of 'Jersey Boys,' rather, Streetlamp is all about Motown-meets-pop-meets-soul-meets American Top 40 radio of the '50's and'60's, delivered in four-part harmony." -- Miriam DiNunzio, Chicago Sun-Times
"Mike Ingersoll belts out a mean Roy Orbison, Christopher Jones excels on soulful ballads, Michael Cunio rocks, and Wiley channels Frank Sinatra and Dean Martin" -- Elaine T. Cicora, Cleveland Scene
"Timing just seems right for the four men who make up Under The Streetlamp - the quartet that's taking American stages by storm this summer" -- Jeffery Ellis, Broadway World
Running Time: 120 non-stop minutes of song and excitement. Includes intermission.
See for Yourself
https://www.youtube.com/watch?v=k6spoShAtyI&feature=player_embedded
and
https://www.youtube.com/watch?v=4Wrb1E0plBI&feature=player_embedded
Tickets Available Now!
Tickets to Under The Streetlamp are
:
$20, $30, $40 & $50 and available at Proctors Box Office (518-346-6204) or online at proctors.org. Free parking for
Under The Streetlamp
on Thurs., Oct. 25 is available in the Broadway garage.
Under The Streetlamp
at Proctors is made possible with public funds from the New York State Council on the Arts, celebrating 50 years of building strong, creative communities in New York State's 62 counties. For more information on
Under The Streetlamp
,
please check
http://www.underthestreetlamp.com/
.   Opening for UTL's shows is Chicago-based
a cappella
group is Gentleman's Rule
,
founded by Dan Ponce, the creator of the supergroup Straight No Chaser. Their debut CD is scheduled to be released in November. Check local listings for designated cities where Gentleman's Rule will be performing. (http://gentlemansrule.com).
ABOUT PROCTORS
Proctors in Downtown Schenectady, NY, offers more than 1,700 events a year to close to 600,000 visitors and residents of New York State's Capital Region. As a charitable, cultural and educational non-profit organization, Proctors depends on membership, donations and grants to bring exciting shows and excellent educational and community events to the Capital Region. Income from ticket sales pays for only 67 percent of the cost of running Proctors (proctors.org).
USL Press Contact
: Liz Rosenberg Media, Liz Rosenberg / Karen Moss liz@lizrosenbergmedia.com /
karenmoss@lizrosenbergmedia.com
, 212-991-4290
###
MEDIA REPRESENTATIVES, PLEASE NOTE: To arrange a phone interview with a member of UNDER THE STREETLAMP, please contact Thom O'Connor,
toconnor@proctors.org
; 518-382-3884, x166.