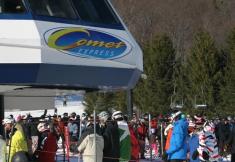 Canandaigua, N.Y.
- There were smiles for miles at Bristol Mountain this past Saturday, Dec. 12.  Guests were lined up outside the Guest Services office before it opened in anticipation of a great day of skiing and riding.  It was the perfect start to what seems to be another great season. Karen Dadali, Guest Services Supervisor, remarked, "This was one of the busiest opening weekends we have had in Guest Services.   Everyone was anxious to pick up their season passes and get out on the mountain today." This weekend is the beginning for peak hours through mid March.  Skiers and riders can stay on the mountain until 10pm every night.  Ninety seven percent of the trails have lighting so guests pretty much have the same access to the trails they skied during the day at night. Skier Bill Durland, commented, "Its fantastic.  A beautiful day and the snow is in great shape!"  "I've been here a skier for a long time," said, Steve Heelems.  "I'm one of those guys that cheer on storms like we had on Tuesday and Wednesday while everybody else was grumbling about the traffic.  It's fun to be able to enjoy the weather". For information regarding snow conditions call 585-274-1100 or go to
http://www.bristolmountain.com/
.  The Guest Services staff can be reached at 585-374-6000.
Photo:
Taken Saturday, December 13, 2009, Bristol Mountain; Comet Express Lift. Photo Courtesy of Drew Broderick
Contact:
Drew D. Broderick Phone: 585.374.1125 Email: dbroderick@bristolmt.com