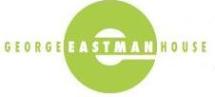 Nine weeklong camps focus on special-effect pictures, photo crafts, mini movies, and darkroom and digital techniques 
Rochester, N.Y.
- A visual experience awaits curious campers this summer as George Eastman House presents Photo Fun Camps for Kids. Ten different weeklong camps from July 2 through Aug. 31 - for children ages 7 to 12 - will focus on special-effect pictures, photo crafts, editing, and basic photography techniques. The camps are dedicated to teaching children how to maneuver a camera to turn their pictures into artwork. The individual weeklong camps run weekdays 9 a.m. until 4 p.m. Experienced Eastman House leaders will guide hands-on activities of creativity and exploration.  Cameras will be provided for each camper's use, and they receive a take-home CD with all their creations at the end of each session.
Camps For Children Ages 7 - 8
TAKE IT! MAKE IT!         
July 16 to 20
Combine picture-taking with craft-making! Projects include collages, handmade paper photo albums, photo flipbooks, and mixed-media.
FREAKY PHOTOS            
Aug. 20 to 24
Have a blast while learning the secrets and techniques of taking "special-effect" pictures. Play with camera angles and props to make amazing-looking trick photos.
Camps for Children Ages 9 - 10
DIGITAL DISCOVERY: OUTDOOR ADVENTURES
July 2 to 6 (Shorter week price - $40 off!)
Explore our natural world one (camera) tool at a time! Use photo-editing software to turn your photos into custom masterpieces.
PHOTO FASHION              
July 9 to 13
Make wearable photographic creations with your own pictures! Design sunprint t-shirts, backpacks, bandanas, jewelry, and more.
ON LOCATION
Aug. 6 to 10
A photo adventure! Explore Mr. Eastman's house and gardens on a photo scavenger hunt, shoot on a visual tour of the Neighborhood of the Arts, and go on off-site photo shoots to popular Rochester landmarks like the Seneca Park Zoo.
Camps for Children Ages 11 to 12
MULTIMEDIA MADNESS
July 23 to 27
Campers will create mini-movies, experimenting with composition, light, special effects, editing, and basic movie-making techniques on-site and in a computer lab. They will scout neighborhood locations and storyboard their ideas. One part still photography, one part video - all parts fun!
DARKROOM TO DIGITAL
July 30 to Aug. 3
Make pictures with both film and pixels using darkroom techniques, experimental and alternative processes, and digital manipulation.
DIGITAL DISCOVERY
Aug. 13 to 17
Take, scan, and download a variety of pictures and learn advanced photo-editing techniques to make them into custom masterpieces.
ON LOCATION
Aug. 27 to 31
A more advanced version of our August 6 camp. It is not necessary to have taken the On Location camp for children 9-10 to attend this session. The cost of each weekly camp is $220 ($210 for Eastman House members), with the exception of July 2-6, which is  $180, as there is no camp on July 4. All supplies included. For information about Photo Fun Camps for Kids or to register, visit eastmanhouse.org or call the Education Department at (585) 271-3361 ext. 232.
# # #
Media Contact:
Dresden Engle
dengle@geh.org
(585) 271.3361 ext. 213