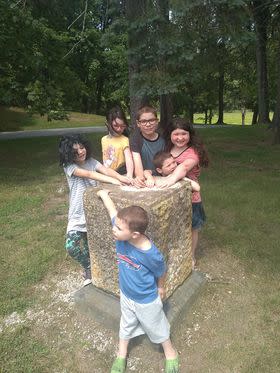 Taking place through Labor Day
Staatsburgh, N.Y. — Through Labor Day, Staatsburgh State Historic Site invites you to explore the beautiful Hudson River landscape by taking a photographic scavenger hunt challenge! A camera and walking shoes are all that's needed to complete ten fun riddles on a loop through the grounds of the historic river-front estate. All ages are invited to participate – play solo or with a group. Learn about some of the highlights of the historic Gilded Age estate around the mansion while having fun! Find the signs on kiosks throughout Mills-Norrie State Park, and scan the QR code with your phone to get the clue sheet, or visit https://millsfriends.org/virtual/family-fun/
Complete the hunt and submit your photographic answers via Facebook Messenger (@StaatsburghSHS) or email (staatsburghshs@parks.ny.gov). Any group completing and submitting all 10 tasks will win coupons for ice cream cones, courtesy of Stewart's Shops. Prizes will be available through September 4 or while supplies last. We invite you to post on Facebook or Instagram and tag us or use the hashtag #StaatsburghScavengerHunt.
Families may also wish to hike the woodland trails beginning at Staatsburgh; have a picnic; or stroll along the Hudson River after enjoying the scavenger hunt. Staatsburgh State Historic Site is offering many free, outdoor family programs this summer. For a complete list and to register: https://Bookeo.com/StaatsburghSHS
Staatsburgh State Historic Site and the Ogden Mills & Ruth Livingston Mills Memorial State Park are located on Old Post Road in Staatsburg, off Route 9 between Rhinebeck and Hyde Park. The historic site is one of 6 sites and 15 parks administered by the Taconic Region of New York State Office of Parks,
Recreation and Historic Preservation. For more information, call 845-889-8851, or visit Staatsburgh's websites at Parks.NY.gov, Facebook, and Blogger. Staatsburgh's events are listed at Parks.NY.gov/Events. 
New York State Office of Parks, Recreation and Historic Preservation oversees more than 250 individual parks, historic sites, recreational trails, and boat launches, which were visited by a record 79.5 million people in 2022. For more information on any of these recreation areas, call 518-474-0456 or visit parks.ny.gov, connect on Facebook, or follow us on Twitter
###
Contact: Zachary Veith | Zachary.Veith@parks.ny.gov | 845-889-8851 ext. 350