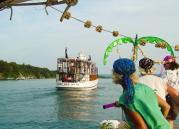 Skaneateles, N.Y. - Those Mid-Lakes marauders are at it again!   August 8th is Pirate Day aboard all Mid-Lakes Navigation cruises sailing Skaneateles Lake and the Erie Canal. Be on the lookout for takeovers, treasure heists and tons of water play.   Continuing his antics from last year, Capt. Jack will make a return appearance on the Judge Ben Wiles. "I'll read to the kids, teach them about pirates, and prepare them for imminent attack," he says, noting that he ad libs a lot and stays in character as a "goofy, crazy, fun-loving pirate" throughout the day.   Crew members will dress the part, and passengers are encouraged to do so, too. Prizes will be awarded for best boy's costume and best girl's costume on each of the sightseeing and lunch cruises, and for best boys, girls and adult costumes on the dinner cruises.   So that everyone can get in on the fun, pirate mugs, bandanas, eye patches, skull rings, earrings and swords will be for sale, and children will receive a free tattoo, trinket and pirate hat. A pirate menu will be available on the lunch cruises, and pirate drinks (both alcoholic and non-alcoholic) will be offered on all cruises.   The mailboat and lunch cruises on Skaneateles Lake are already booked, but space remains on the following:  
Lunch Cruise - 11 a.m. -1 p.m., on the Erie Canal (leaves from Dutchman's Landing, 7490 Hillside Road, Baldwinsville). $29 adults; $24 children. Reservations required.
Capt. Hat's Mighty Sights (sightseeing cruises) - 2, 3 and 5 p.m., on Skaneateles Lake. $12 adults; $8 children; $40 family.
Pirate Dinner Cruises - 6-9 p.m., on Skaneateles Lake and on the Erie Canal. $50 adults; $40 children. Reservations required.
Take-Out Cruise - 6:30-8 p.m., on Skaneateles Lake. $15 adults; $10 children.
"We're asking the entire shoreline community to help us keep the marauders at bay," says Sarah Wiles, a co-owner and director of marketing at Mid-Lakes Navigation, tongue firmly in cheek.   For more information, call Mid-Lakes Navigation at (315) 685-8500 or go to http://www.midlakesnav.com/.
###
Contact: Sandi Mulconry Group M Communications 315-685-9363 /wp-admin/sandi@groupmcom.com