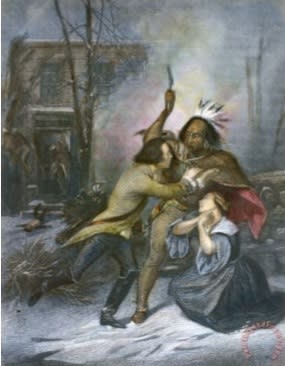 Scots-Irish Immigration and Defense of the New York Frontier, 1740 to 1778
Scheduled for Saturday, October 27 at 1:00 pm
Utica, N.Y. – Join independent historian Terry McMaster to explore settlement and development along colonial New York's western frontier.  This presentation is enhanced with maps and illustrations from 18th century sources demonstrating the migration and settlement of culturally and ethnically diverse peoples including Scots-Irish settlers in frontier villages such as Cherry Valley, Unadilla and Onaquaga and early 18th century Native American settlements. This program takes place in the History Center's main gallery on Saturday, October 27, 2018 starting at 1:00 PM.
Terry McMaster is an independent historian whose research focuses on the American Revolution in the Mohawk Valley and on the settlement patterns, family connections, and border warfare along colonial New York's western frontier in the 18th century.  He has presented his research at Fort Plain Museum's "American Revolution in the Mohawk Valley" conference, Hyde Hall,  and many other locations.  Terry is a photographer, artist, and an addiction therapist at Professional Counseling Services, Inc. in Camillus, NY.
The Oneida County History Center, formerly the Oneida County Historical Society, is a private 501(c) (3) not-for-profit educational institution and is dedicated to preserving history and promoting the culture of the Greater Mohawk Valley. Admission to this program is free for the general public; donations are encouraged. Please contact the center at 315-735-3642 or visit the OCHC website (www.oneidacountyhistory.org) or Facebook.com page for additional information.
The History Center is located at 1608 Genesee St, Utica, NY 13502.
 
###
 
Contact:
Rebecca McLain
Community Outreach Coordinator
Oneida County History Center
(315)-735-3642