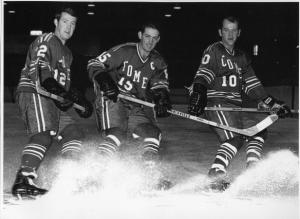 Scheduled for Saturday, January 4, 2020 at 1:00 PM
Utica, N.Y. – Winner of the Kraft Hockeyville USA contest in 2018, the spirit and passion for hockey is strong in the village of Clinton. This enthusiasm is rooted in the community's rich hockey history that began over 100 years ago. Join Historian Dick Williams at the Oneida County History Center for brief overview of the sport's history in the Clinton area.  His PowerPoint will trace the development of hockey as a major part of Clinton between October and April each year over the past century.
Dick Williams has been the Clinton and Kirkland Historian since 2000. He is a former Clinton mayor and was president of the Clinton Historical Society (CHS) from 1999-2004. He is still an active member with the CHS and has written the organization's newsletter since 2000.
This program takes place in the History Center's main gallery on Saturday, January 4, 2020 starting at 1:00 PM.
The Oneida County History Center is a private 501(c) (3) not-for-profit educational institution dedicated to preserving and promoting the history, heritage, and culture of the Greater Mohawk Valley. Admission to this program is free for the general public; donations are encouraged. Please contact the History Center at 315-735-3642 or visit the OCHC website(www.oneidacountyhistory.org) or Facebook.com page for additional information.
 
###
Photo Caption: Clinton Comets (no date)
Facebook Event Link: https://www.facebook.com/events/1029549440709653/

Contact:
Rebecca M. McLain
(315) 735-3642 
Oneida County History Center
1608 Genesee Street
Utica, NY 13502
(315)-735-3642