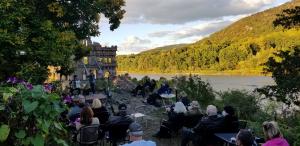 Beacon, N.Y. (April 14, 2021) – Members of the press are invited to join Bannerman Castle Trust (BCT) Executive Director, Neil Caplan for the first public tour of Bannerman's Island for the 2021 season. Space is limited to the first 22 people to register, so please reserve your ticket early by calling Neil at 845-831-6346 as soon as possible.
Press tour attendees will board the BCT's Tour Boat, the Estuary Steward, at the Beacon, New York Dock across from the Metro-North Beacon Train Station at 11:00am and return around 1:00pm.  The "socially distant" tour will include a light picnic lunch and refreshments.  Visitors will be given a short tour of Bannerman's Island and Castle by experienced tour guides – followed by a question and answer period and a little time to explore and take some photos on your own.
There will certainly be a lot to see!  Even though events and tours had to be scaled down due to the pandemic last year, major restoration projects continued on Bannerman's Island.  Masonry work on the island's beautiful trails and terraces is almost completed and work will continue in 2021 thanks to special grants from Parks and Trails New York, who gave the BCT a grant for $63,000 to restore the sidewalks around the Bannerman Residence and the North Trail.  The Bannerman Castle Trust, Inc. provided a 10% grant match of $10,000. Stabilization work will continue on the Bannerman Castle ruins this year, as will preliminarily work on a proposed viewing platform and outdoor amphitheater planned for the future. 
A new Bannerman Island exhibit by Bannerman Collector, Mike Vahsen will be displayed this season in the renovated Bannerman Residence house, now the Bannerman Island museum and visitor center. The show will feature artifacts from Mr. Vahsen's extensive collection of Bannerman Island objects and memorabilia.
Press Tour attendees will also enjoy the island's trails and established gardens, generously donated by Mark and Sue Adams of Mark Adams Greenhouses and Adams Fair Acre Farms – which are particularly beautiful in the spring!  New permanent restrooms have also made visiting the island much easier.
If you're unable to make the tour on April 27th – you are welcome to take another public tour of Bannerman's Island any other Friday, Saturday or Sunday from May – October.  Special boat charters for groups are also available on weekdays from May – October.  Larger events will have to be scaled down again this year, but tours of the island and smaller concerts will continue.  To see a complete schedule of tours and events – please visit www.bannermancastle.org. 
Remember, space is limited and you must pre-register for this press tour, so please call Director Neil Caplan  at 845-831-6346 to reserve as soon as possible.
Photo: Students Playing Illuminance
Contact: Executive Director, Neil Caplan at 845-831-6346