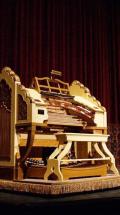 Combines Popular CDPHP Noontime Organ Concerts & Behind-the-Scenes Walking Tour of Arts Complex
Bring a camera and a friend - or more!
Schenectady, N.Y.
-Starting this month with a special holiday-themed concert at noon on Tuesday, December 11, Proctors will combine its longstanding and popular noontime organ concerts with guided tours to take place immediately following the lunchtime recitals. The initiative is in response to increased requests for more regularly scheduled tours of Proctors State Street arts and entertainment complex, Both events - the concert at noon and the tour immediately following  - are free and open to the public. Participants are invited to "brown-bag" the event or enjoy a cozy lunch at the theatre's refurbished
Apostrophe Café and Lounge
.   
CDPHP FREE NOONTIME ORGAN CONCERT/PROCTORS TOUR date are:
DECEMBER 11, 2012- GREG KLINGLER & GUEST JOHN BARATTA
JANUARY 15, 2013- HELEN MAKSYMICZ & SCOTT RICHARD
FEBRUARY 19, 2013- CLAUDIA BRACAIELLO & CHARLOTTE PALMERI
MARCH 19, 2013- ROB KLEINSCHMIDT & BILL HUBERT
APRIL 23, 2013- JOHN WEISNER & LEONARD CARLSON
MAY 21, 2013- AL MOSER & ED GOODEMOTE
Seasoned Organists to Entertain
Close to two-dozen seasoned musicians will participate in the exciting CDPHP Free Noontime Organ Concert Series this season. The series showcases the artistry of area organists and the versatility and power of "Goldie," Proctors mighty WurliTzer pipe organ, an 18-voice, three-keyboard instrument that includes a full set of percussion sound effects and a grand piano that can be played from the organ console.  The Golub Foundation and members of the Golub family -- in memory of Bernard and Sunshine Golub -- gifted the mighty Wurlitzer to Proctors. Since the installation of Goldie in 1983, Proctors has hosted a local chapter of the American Theater Organ Society, which provides the services of the outstanding organists who perform for Proctors noontime concerts, and the crewmembers who maintain
Goldie
. "CDPHP is proud to support the Noontime Organ Concert Series at Proctors and other cultural events that enhance the quality of life for people in the Capital Region," said John D. Bennett, MD, president and CEO, CDPHP. "We value our partnership with Proctors and the many contributions this world-class venue makes to the communities we serve." According to
Frank Hackert,
Chairman of the Hudson-Mohawk Theatre Organ Society (*) Proctors is fortunate to be among a handful of surviving venues in New York State with a functioning theater pipe organ installation.  This remarkable and uniquely American musical invention was developed in the early 20th Century specifically to supply the music score for silent film presentations in larger theaters.  Smaller movie houses managed with just a piano but big movie palaces needed an instrument with substantial sound power and tonal variety.  Using newer pipe-organ technologies of the day inventor Robert Hope-Jones and the Wurlitzer company of North Tonawanda, NY, stepped up and produced what they called the "Unit Orchestra," an orchestral music synthesizer played like a traditional organ.  These devices were played by a single artist yet could produce the sound equivalent of a small orchestra.  Proctors' Wurlitzer ("Goldie") was among the last built in 1931 when talking films put an abrupt end to the short but fabulous history of the American theater organ. "The CDPHP Free Noontime Organ Series," says Hackert, "celebrates our historical musical instrument by offering audiences the opportunity to hear Goldie played by as many as 20 local organists in the course of a 10 month (September to June) concert season.  Audiences can experience a buffet of musical styles ranging from traditional theater organ music of the 1920s, to show tunes, classics and modern adaptations.  For older audience it's a friendly familiar sound and a sentimental visit to a bygone era but for younger audience it's a fresh new sound experience they've probably never heard. "Thanks to the generous and essential financial support from CDPHP," says Herbert, "Proctors is able to extend these free concerts. The organ concert series at Proctors has been evolving for over 20 years but this is the first year for CDPHP's participation and we welcome them to the team and look forward to many years of productive cooperation." "CDPHP is proud to support the Noontime Organ Concert Series at Proctors and other cultural events that enhance the quality of life for people in the Capital Region," said John D. Bennett, MD, president and CEO, CDPHP. "We value our partnership with Proctors and the many contributions this world-class venue makes to the communities we serve."
ABOUT CDPHP
Established in 1984,
CDPHP
is a physician-founded, member-focused and community-based not-for-profit health plan that offers high-quality
affordable health insurance plans
to members in 24 counties throughout New York. CDPHP is also on
Facebook
,
Twitter
, or
LinkedIn
.
Responding to Visitor Requests: A Tour to Remember
 "With more and more visitors coming to downtown Schenectady, it seems only natural to welcome those who have expressed an interest in wanting to know more about this historic place," says Marilyn Sassi, a longstanding member of Proctors History Committee and Volunteer Coordinator of the informal but informative walkabouts.   
Comprehensive Guided Tour by Informed Docents
The post-noontime concert tours of Proctors include:
Informal, narrated history of Frederick Freeman Proctor and his impact on arts and entertainment in the extended Capital Region;
Overview of the architectural high points of the Proctors complex;
New stage-house -- now three times larger than the original stage;
Insider's look at backstage;
Star dressing rooms;
Proctors museum
Robb Alley
Underground at Proctors and
New SchenectadyHeritage Area Visitors Center at Proctors
About the New Schenectady Heritage Area Visitors Center at Proctors
Proctors is now the site of a new Schenectady Heritage Area Visitors Center.  Schenectady officials consider Proctors as the area's biggest visitor attraction: Proctors hosted 1,728 events last year, attracting more than 600,000 people to a reenergized Downtown Schenectady. ADIRONDACK Studios, an Argyle, NY firm that has been the fabricator of sets for Disney's
The Lion King
as well as sets for the Boston, Los Angeles and New York Opera companies was commissioned along with Stracher Roth Gilmore Architects of Schenectady to design the new facility that will be located across from the Proctor's box office. The 1,200 square foot exhibit area will be easily accessible from the State Street entrance of Proctors entertainment complex. The exhibit features five areas that highlight the legacy of Schenectady area and alert visitors to the role that Schenectady plays in green energy and other emerging technologies. The five exhibit areas include History, Landmarks, Industry, Culture and Visionaries.  The Visitors Center exhibits employ state of the art digital print and TV technologies. The area will include enhanced lighting to highlight the area - and a new ceiling over and adjacent to the exhibits will create an intimate space to view and participate in the exhibits. The exhibit space will also include display racks to showcase marketing materials on various historic points and places of interest within Schenectady County and the Mohawk Towpath Scenic Byway.    A unique feature of the Visitors Center is that it is designed to be a revolving exhibit, enabling Proctors to introduce new subject matter throughout the year. The exhibit panels are designed to be easily and cost effectively updated. Representatives from numerous organizations came together to develop the content of the exhibit including the Schenectady County Historical Society, Schenectady Museum, Mabee Farm, local historians, Proctors History Committee, Mohawk Towpath Scenic Byway, Revolutionary Byway and the City of Schenectady. The Mohawk Towpath Scenic Byway is a national and state designated byway from Waterford to Schenectady. It connects to the Revolutionary Byway that runs to Port Ontario. 
Proctors: Revitalized Living Legend
Proctors is listed on the National Register of Historic Places.  In 2009 the League of Historic American Theatre commended Proctors as a theatre of exemplary vision and dedication to its community. Originally built as a vaudeville house, Proctors has seen its stage graced by such legendary performers as comedians Red Skelton, George Burns and Gracie Allen, magicians Harry Blackstone Sr. & Jr., and bandleaders Duke Ellington, Louis Armstrong and Glenn Miller. Proctors has hosted entertainers including Tony Bennett, Carol Channing, Tim Conway, Robert Goulet, Carol Burnet, Norah Jones, Brittney Spears, Aretha Franklin and Alice Cooper.  Singer Mariah Carey chose Proctors as the site for her first concert special in 1993, and the theatre is featured prominently in the video for her big hit "Hero" Tours of the restored 1926 Vaudeville palace and the two new theaters are available and led by trained volunteers throughout the year as needed or upon request for private tours. Private tours for groups of fifteen or more can be arranged by calling Proctors Business Office at (518) 382-3884.
Informed, Experienced Guides
Marilyn Sassi
facilitates all tours of the Proctors arts and entertainment complex; she schedules and conducts these informational gatherings in concert with a trained corps of committed volunteers. Although she started her volunteer work as a member of The Theatre Guild at Proctors, she opted over time to combine her rich experience as a seasoned teacher specializing in material culture, architecture and area history with her enjoyment of people and love of Proctors. Ms. Sassi remains an enthusiastic, proactive contributor to Proctors History Committee.
All tours offer an informal glimpse of the entire facility, including the new Proctors Guild Room and Museum. These gatherings are always informal, fun and informative, says Ms. Sassi. "This informal event is enriched by questions, memories, and interaction. I always suggest that participants bring their friends and a camera."
Contact Information
For more information on the exciting CDPHP Free Noontime Organ Concert Series, contact Frank Hackert, Chairman of the Hudson-Mohawk Theatre Organ Society at 355-4523; fhackert@gmail.com.
For additional information on the Schenectady Heritage Area Visitors Center, contact Maureen Gebert, mgebert@schenectadyny.gov, (518) 382-5147.
For more information about Proctors, including a brief history, visit proctors.org.
(*) (Besides its close affiliation with Proctors as a volunteer group dating back to 1983, Hudson-Mohawk Theatre Organ Society also is a chapter of the international organization known as The American Theatre Organ Society and thus, the organization sometimes is identified by the alternate name Hudson-Mohawk Chapter-ATOS, or more commonly by the acronym HMTOS).
http://www.proctors.org/events/organ-12-11
- 30 -
Contact:
Thom O'Connor 518-382-3884 X166
toconnor@proctors.org