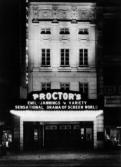 Schenectady landmark pulls back the curtain, allowing guests to investigate haunted history for the second annual tour; unprecedented lights out paranormal investigation follows at midnight!
Schenectady, N.Y.
- The lady in white. The boy from the balcony. The disturbances in dressing room 216. Is Proctors haunted? Find out for yourself on Friday, Oct. 4, as the Proctors Ghost Tour takes you on a spine-tingling journey through places in the historic theatre that few dare to go. Explore creaky backstage hallways, creepy dressing rooms and eerie balcony boxes while hearing firsthand accounts of strange occurrences and tales of ghostly hauntings. Fun? Frightening? Perhaps a bit of both! Proctors opened its doors in 1926 and has hosted countless thousands of patrons over the past 87 years. Some, it seems, have never left. Take the unknown whistler, who haunts the halls of the dressing rooms, or the mysterious culprit behind the missing sandwich. At midnight, for the unprecedented Proctors Lights Out Paranormal Investigation, guests will be released from the earthly bonds of the guided Ghost Tour and will be allowed to investigate the Proctors arts complex after the building closes and the lights go out!* For the first time ever, Proctors opens up for a one-of-a-kind show, where you are the act. The audience? Well, you never quite know who could be watching. Only the curious and the brave need apply. Guests may bring investigative equipment of their choice (excluding ghost boxes). In addition, special guest Gary Robusto, founder of the Tri-City NY Paranormal Society has volunteered to bring team members and their professional research equipment to help with the investigation for the evening.
http://www.tri-citynyparanormalsociety.com/
. Haunted theatre fans will also have the opportunity to purchase copies of Winifred Elze's new novel, Ghosts of Proctor's Theatre-which is based on actual sightings-and is available exclusively at the Proctors Gift Centre. The guided Proctors Ghost Tour takes place on the hour from 8-11 p.m. The tour runs approximately 60 minutes and is open to all ages. Admission is $15. The unguided Proctors Lights Out Paranormal Investigation-recommended for ages 18 and over-begins at Midnight and runs approximately two hours. Admission is $30 and includes an earlier tour. For more information, contact the Proctors Box Office at 518.346.6204 or visit proctors.org. *For safety reasons, the auditorium will not be entirely blacked out.
###
Media contact
: Colleen Thrasher
cthrasher@proctors.org
518.382.3884, ext. 138