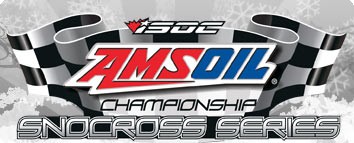 Racing of a different breed to take over Farmington oval
Farmington, N.Y.
- Horsepower of a different breed will take over at Finger Lakes Gaming & Racetrack with the AMSOIL Championship Snocross Series Eastern Nationals returning to Western New York for the second consecutive winter. The two-day event, complete with amateur, semi-pro and professional racing, along with an aerial freestyle show is set for Friday and Saturday, February 5
and 6, 2010. The Eastern Nationals mark the fifth stop of nine on the 2009-10 AMSOIL Championship Snocross Series (ACSS). Regional, Semi-Pro, and Professional level races, including finals for men and women are scheduled both days of the event, with Rock Maple Racing, a regional snowmobile circuit, competing for points in the national race. "We're very excited to be able to bring professional snocross back to Western New York," said Finger Lakes Gaming & Racetrack president Chris Riegle. "Last year's event drew in over 13,000 spectators to witness some of the top names of snocross, and this year's event will be directly after the Winter X Games in Aspen. We look forward to seeing some the best in world compete once again." Mens professional riders expected to appear include Tucker Hibbert, a four-time Winter X Games gold medalist; including the past three years (2007-2009). Winning his first gold medal at the age of 15, Hibbert currently holds the record for the youngest gold medalist in Winter X Games history and has enjoyed tremendous success on the ACSS circuit. Hibbert, who didn't compete in the Eastern Nationals last year at Finger Lakes is expected to be joined by defending AMSOIL Pro Stock champion and five-time Winter X Games medalist, Levi Lavallee. Also expected to compete are TJ Gulla, Robbie Malinowski, and Ross Martin. Other than the anticipated appearance of Hibbert, changes from last year include condensing of the event into two days and having a large portion of the professional racing under the lights both days. Also new will be adjusted ticket pricing for kids 5-11, while children under 5 will be admitted free. In addition to racing, fans can expect various snowmobile-related vendors, sled demonstrations, prize drawings and more. Friday evening will also be complemented by autograph sessions with many of the professional riders and a return of the aerial freestyle acrobatics of The Monster Energy Slednecks Invasion Tour. A fireworks show will close out the event on Saturday night. Tickets are required for racing action which begins at 3 p.m. on Friday and 9 a.m. on Saturday. Advance tickets for adults (age 12 and up) are $25 for a one-day pass, or $40 for a weekend pass. Junior tickets (age 5-11) are $15 for a one-day pass, or $20 for a weekend pass. Also available are Family-Packs consisting of two adult and two junior weekend passes for $99.  All tickets are available for purchase at Finger Lakes Gaming & Racetrack, all Tops Markets, and Tickets.com. Tickets are also available on the days of the event for an additional $5 for each adult ticket and an additional $3 for all junior tickets. The gaming floor and thoroughbred racing simulcast viewing areas at Finger Lakes will remain open with no admission charge throughout the entire weekend.
About AMSOIL CHAMPIONSHIP SNOCROSS SERIES (ACSS)
:  ACSS, governed by ISOC (International Series of Champions, Inc.), consists of nine national races during the 2009-2010 season. For more information, visit
http://www.isocraing.com/
.
About
Finger Lakes
Gaming & Racetrack:
In operation since 1962, the facility added gaming to its offering in 2004 with a $10.5 million expansion. Over 1.6 million visitors annually now enjoy nearly 1200 slot machines, a 280-seat buffet restaurant, sports bar and grill, as well as live and simulcast thoroughbred racing. Gaming doors open at 10am and racing gates open at 11:30am daily. For more information, visit
http://www.fingerlakesgaming.com/
.
The following is a tentative schedule of events (all times approximate):
Friday, February 5, 2010:
3pm: Doors Open5pm: Semi-Pro Race: Semi-finals and Finals 7pm: Pro Race: Semi-finals and Finals 9pm: Pro Race Autograph Session 10pm: Monster Energy Slednecks Invasion Tour
Saturday, February 6, 2010:
9am: Doors Open 9am: Regional Races: Semi-finals and Finals 1pm: Semi-Pro Races: Semi-finals and Finals 5pm: Pro Race: Semi-finals and Finals 10pm: Fireworks Show
-30-
Contact
: Shannon Kingston Sr. Marketing Specialist 585-924-3232 x294