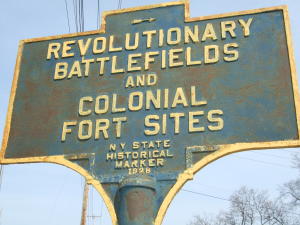 Scheduled for Saturday, March 21, 2020 At 1:00 PM
Utica, N.Y. – John Carmody and Wayne Schaller, president and vice president of the Fort Bull Research Group, will discuss the importance of the Great Oneida Carrying Place including site's geographic location, the fortification of the Carry by the British during the French and Indian War, the French attack on the Carry on March 27, 1756, and the role that the Fort Bull Research Group played in the maintenance of the remains of Fort Wood Creek. These remains date from 1756 and are the oldest structural remains in what is now Rome, N.Y.  This program takes place in the History Center's main gallery on Saturday, March 21 starting at 1:00 PM.
The Oneida County History Center is a private 501(c) (3) not-for-profit educational institution dedicated to preserving and promoting the history, heritage, and culture of the Greater Mohawk Valley. Admission to this program is free for the general public; donations are encouraged. Please contact the History Center at 315-735-3642 or visit the OCHC website(www.oneidacountyhistory.org) or Facebook.com page for additional information.
###
Contact:
Rebecca M. McLain
Director of Education & Outreach
Oneida County History Center
1608 Genesee Street                           
Utica, New York 13502-5425            
315-735-3642
rmclain@oneidacountyhistory.org
Photo Caption: New York State Historical Marker (Image courtesy of the National Park Service)
Facebook Event Link: https://www.facebook.com/events/3192162854146944/