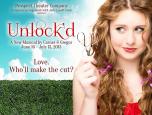 A New Musical Comedy Book and Lyrics by Sam Carner/Music by Derek Gregor
Post-Performance Talkback with Carner and Gregor Scheduled for June 19
Performances Begin June 16
New York, N.Y.
- Prospect Theater Company will offer a $20 ticket lottery for their upcoming Off-Broadway production of 
UNLOCK'D
. Performances begin June 16, 2013 at The Duke on 42nd Street, a New 42nd Street project. Sign-up for the lottery begins at the 2
nd
 floor box office one hour prior to curtain. Names will be drawn 30 minutes before the performance. Winners may purchase up to two tickets using cash or credit card. A limited number of seats will be available at each performance. Producers have also announced that a post-performance talkback with Carner and Gregor will be held following the Wednesday, June 19 performance. The announcement was made today by Cara Reichel and Melissa Huber, the Producing Artistic Director and Managing Director of Prospect Theater Company. 
UNLOCK'D
 is presented by special arrangement with Judy Loseff Lavin. Winner of a Richard Rodgers Award and a "Best of Fest" winner at the New York Musical Theatre Festival, 
UNLOCK'D
 is an original musical comedy featuring book and lyrics by Sam Carner and music by Derek Gregor. Jennifer Blood (
Cole Porter's NYMPH ERRANT, The Flood, Yeast Nation
), Jillian Gottlieb (
The Awesome 80s Prom
), Sydney James Harcourt (
The Lion King, American Idiot
) and A.J. Shively (
La Cage Aux Folles, February House
) lead the cast of 
UNLOCK'D
. The cast will also feature Maria Couch (
Iron Curtain, On the Levee, Phantom
), Adam Daveline, Chris Gunn, Catherine LeFrere (
Once Upon a Time in New Jersey
), Lukas Poost, Chandler Reeves, Emily Rogers and Hansel Tan (
Rites of Passage
). In 
UNLOCK'D
, Clarissa is tired of living in the shadow of her flirtatious sister Belinda, the most adored woman in 18th Century England.  Wits sharpened and scissors in hand, Clarissa sets out to cut Belinda - and her glorious locks of hair - down to size... and to find a man of her own! Through an innovative score featuring electric guitar alongside harpsichord and strings, four star-crossed lovers and the mischievous spirits that surround them are each unwittingly "unlocked" to their true feelings and identities.
UNLOCK'D
 will be directed and choreographed by Marlo Hunter, the founder of Eating Their Words and associate choreographer of The Roundabout's 
Picnic
. Brad Haak (
Mary Poppins, Lestat
) is the music supervisor. Scenic design is by Wilson Chin (
Next Fall
) and David L. Arsenault. Costume design is by Amy Clark (
Chaplin The Musical
). Lighting design is by Cory Pattak (
Cole Porter's NYMPH ERRANT, With Glee
). Sound design is by Kurt Fischer (
Rent, Everyday Rapture
). Kat West is the production stage manager. Jason Najjoum (
Working, Myths and Hymns
) is the casting director. Additional orchestrations by Bruce Coughlin. Christian Kelly-Sordelet is the fight choreographer. Adam Wachter is the music director. Tickets for 
UNLOCK'D
 ($50, with premium seating available for $65) are available by visiting 
http://www.dukeon42.org/
, by calling 
(646) 223-3010
 or in person at The Duke on 42nd Street Box Office located at 229 West 42
nd
 Street. The box office is open Tuesday through Friday from 4pm - 7pm, on Saturday from 12pm - 6pm, and two hours prior to performances on Sunday. The Duke on 42nd Street is located at 229 W. 42
nd
 Street, NYC. For more information please visit 
http://www.prospecttheater.org/
.
About Sam Carner and Derek Gregor
  Sam Carner and Derek Gregor
have developed 
UNLOCK'D
 through workshops at Theatre Works (Palo Alto) and at the Ravinia Festival, as well as a 2007 New York Musical Theatre Festival production which won "Best of Fest."  Their new musical 
Island Song
 has been developed at Princeton University and Western Carolina University, and recently premiered in concert at Le Poisson Rouge.  
Island Song
 will also have workshops over the coming months at the Bloomington Playwrights Project and the Balagan Theatre in Seattle.  Carner and Gregor also presented the concert 
Sing, But Don't Tell
 at NYMF 2009 and 
Buzzed
, a 2010 concert with 12 cast members from the Broadway cast of 
Hair
. Three of their songs have been nominated for MAC Awards ("Sing, But Don't Tell", "After Hours" and "Make It Here"). Their short children's piece 
Love, Splat
 is slated for production in TheatreWorks/USA's 
The Teacher from the Black Lagoon.
About Marlo Hunter
Marlo Hunter was recently awarded the first Alec Baldwin Directing Fellowship and serves as Director of Script Development for WET Productions. She is the founder of Eating Their Words, pairing playwrights and chefs for an unprecedented artistic collaboration. Through ETW she commissioned and directed new plays by Neil LaBute, Douglas Carter Beane, Theresa Rebeck, Annie Baker, Amy Herzog, Beau Willimon and Sarah Treem, among others. She recently returned to Broadway as Associate Choreographer on The Roundabout's 
Picnic
. Additional NY credits as choreographer include Prospect Theater Company's 
The Rockae
 and 
The Taxi Cabaret
.  She will direct the upcoming workshop of Carner and Gregor's 
Island Song
 at the Balagan Theatre in Seattle.
 About Prospect Theater Company
Prospect Theater Company is one of America's leading producers of new musical theater. Since 2000, the company has fully produced 18 new musicals in New York City, in addition to mounting productions of new plays and classic works, and supporting numerous developmental opportunities for emerging musical theater writers.  Prospect was founded in 1998 by five graduates of Princeton University in order to allow a diverse group of emerging theater professionals to work together in pursuit of artistic excellence and innovation.  The company membership now includes a network of almost 1,000 affiliated artists.  Notable productions include:  
Working - A Musical
 (2012)
, Iron Curtain 
(2006, 2011),
 Myths and Hymns 
(2012),
 Cole Porter's NYMPH ERRANT 
(2012),
 With Glee 
(2010),
 The Blue Flower 
(2008),
 Golden Boy of the Blue Ridge 
(2009),
 The Hidden Sky 
(2010),
 Illyria 
(2002, 2008),
and the Drama-Desk nominated 
The Pursuit of Persephone 
(2005).  
About The Organization: The New 42nd Street
 Founded in 1990, The New 42nd Street is an independent, nonprofit organization charged with long-term responsibility for seven historic theaters on 42nd Street between Seventh and Eighth Avenues. In addition to running The New Victory Theater, The New 42nd Street built and operates the New 42nd Street
®
 Studios-a ten-story building of rehearsal studios, offices and a 200-seat theater named The Duke on 42nd Street-for national and international performing arts companies. Since its opening on June 21, 2000, the New 42nd Street Studios has been fully occupied by both nonprofit and commercial theater, dance and opera companies. With these institutions and the other properties under its guardianship, The New 42nd Street plays a pivotal role in fostering the continued revival of this famous street at the Crossroads of the World.
About The Theater: The Duke on 42nd Street
The Duke on 42nd Street is an intimate black-box theater available for rental to both domestic and international nonprofit and commercial organizations. Featuring a gallery along all four walls and a custom-built, state-of-the-art seating system, the flexible-use space offers full light, sound and support systems in various configurations. The Duke on 42nd Street is a fully-staffed, full service facility in the heart of the theater district. Many performing arts companies have called the space their home, including The Royal Court Theatre, Transport Group, Theatre for a New Audience, Lincoln Center Theater, Steppenwolf Theater Company, Armitage Gone! Dance, Chicago Shakespeare Theater, Naked Angels, Classical Theater of Harlem, Playwrights Horizons, 92nd Street Y's Harkness Dance Project, The NYC Tap Festival and Lincoln Center Great Performers and the National Theater of Great Britain.
###
MEDIA CONTACT:
JOHN CAPO / 
212.729.7697
 / 
JOHN@JOHNCAPOPR.COM