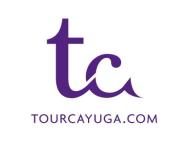 Celebration Features Hometown Surprises
Auburn, N.Y.
- On Dec. 12, Auburn is opening its doors to showcase the area's cultural gems during the city's annual Holiday Traditions event
http://historyshometown.com/
.  Coordinated by Auburn's Historic and Cultural Sites Commission, this event elevates the town's traditions and holiday spirit to feature works of art, celestial music and hidden historical treasures. During the day, visitors to the city can delight in a variety of celebratory events, occurring from 12:00PM to 5:00PM.  In addition, food pantry donations are accepted at all locations to benefit the Cayuga County Food Pantry.
Cayuga Museum, 203 Genesee Street (315) 253-8051
Usher in the holiday at the Cayuga Museum's open house and hear festive music with the Roosevelt Memorial Baptist Choir at 2:00PM. While there, view the art show "Visions Past: Paintings from the Collection of the Cayuga Museum" on display now through Dec. 31.  The selected works of local artists gives insight into the social and physical landscape of Cayuga County during the turn of the 20
th
century. 
www.cayuganet.org/cayugamuseum
Harriet Tubman Home, 180 South Street (315) 252-2081
Become inspired by the life of abolitionist Harriet Tubman. Her homestead and stories will rekindle the strength of the human spirit.
http://www.harriethouse.org/
Schweinfurth Memorial Art Center, 205 Genesee Street (315) 255-1553
Quilts made by 81 artists from all over the world will be shown at the Quilts=Arts=Quilts Exhibit at the
Schweinfurth Memorial Art Center.  In addition, see Priscilla Kibbee's
Quilt Trunk Show
at 2:00PM, which features "wearable art" using textiles from every corner of the globe. Ms. Kibbee will share numerous stories, from teaching quilting to children in Nepal and Seminole patchwork to seamstresses in Thailand, to jackets and embellishment to quilters in Turkey.
http://www.myartcenter.org/
Seward House Museum, 33 South Street (315) 252-1283
Step back in time as you walk through the rooms of the Steward House Museum and relish the elegant Victorian holiday decorations and American art masterpieces. Live musical performances throughout the day will add to the holiday splendor.
http://www.sewardhouse.org/
Willard Memorial Chapel, 17 Nelson Street (315) 252-0339
Become captivated by the only complete and unaltered Tiffany chapel known to exist. Visitors arriving early to the chapel at 11:30 will be able to hear Susan May conduct the Herman Avenue School Chorus as they sing holiday songs. Children can also meet and read with Santa at 12:00PM and 3:00PM.
http://www.willardchapel.org/
St. Francis of Assisi Church, 303 Clark Street (315) 252-7593
Enjoy the sounds of the Auburn Chamber Orchestra who will play from 4PM to 5:15PM.
Coffee hour to follow.
http://marymarthaauburn.org/
St. Mary's, 17 Clark Street (315) 252-6343
Tap your feet at 3:00PM as St. Mary's hosts Signs of the Holiday, featuring a choral concert with the Finger Lakes Camerata.
The Gift Shoppe will be open, and refreshments will be served.
http://www.stmaryauburn.org/
Ward O'Hara Agricultural Museum, Route 38A (315) 252-5009
Celebrate an old fashioned Christmas at the Ward O'Hara Agricultural Museum. Drink hot mulled cider as you help trim the tree or take a tour to enjoy simple pleasures from the 1800s. Enjoy horse drawn-wagon rides, Christmas cookie decorating and holiday musical presentations. 
www.cayuganet.org/agmuseum
Westminster Presbyterian Church, 17 William Street (315) 253-3331
Tour the historic Westminster Presbyterian Church from 12:00PM to 3:00PM, and see the Christmas story displayed through hand-sewn, needlework Advent banners.  At 1:00PM children can listen to the wonder of the Christmas story, or make their very own ornament from 12:00PM to 2:00PM. Capture a special moment during the Holiday Traditions event by having your family picture taken-with or without Christmas pageant costumes. Then stay from 2:00PM to 3:00PM to take in good cheer as the Masterworks Chorale performs holiday selections.
www.westminsterauburn.org/
For more information about Holiday Traditions, call Historic & Cultural Sites Commission at 315-255-1658 or visit http://www.historyshometown.com/.  If you have questions regarding a specific venue, please phone them directly.
About Auburn's Historic & Cultural Sites Commission
The commission represents a group of organizations whose mission is to promote Auburn's historic and cultural attractions through collaborative marketing, programming and tourism strategies.  The Commission site organizations include Auburn Public Theater, Auburn Schine's Theater, Cayuga Museum & Case Research Lab, Harriet Tubman Home, Schweinfurth Memorial Art Center, Seward House Museum and Willard Memorial Chapel.
###
Press contact
:                                                                                                              Barbara Murdoch Auburn's Historic & Cultural Sites Commission                                                                                                                                         315-255-1658
barb@tourcayuga.com