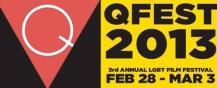 Third Annual LGBT Film Festival
February 28 - March 3
Schenectady, N.Y.
- The
3rd Annual QFEST
returns to the GE Theatre at Proctors, Feb. 28-March 3 with brand new films, exciting new opportunities for discussion, and even more surprises than last year! Regional Premieres, comedy, tragedy, music and fun this year at QFEST. There's something for everyone. This fantastic week offers a dazzling variety of documentaries, feature films, and bold new indie flicks that will really pique your interest and offer insight into a range of issues. Proctors invites everyone from the Capital Region to add their voice to discussions with some of the fabulous creatives behind our films, and join in on the fun. Whatever letter someone uses to represent themselves -- whether straight, gay, or somewhere in between - or you're just interested in film, Proctors invites you to come see a film, or two films or, perhaps, for the film buffs out there, the entire festival!
Check out one movie for $9, or you can see all of the films with our QFEST Pass for only $40!
- The festival kicks off with an opening reception on Thursday, February 28th and ends on Sunday, March 3, 2013.
Any Day Now
            Sun, March 3 • 6pm             This beautiful film shows bravery in the face of discrimination in order to build a family. Bravery is something the world needs more of.
Cat on a Hot Tin Roof
            Fri, March 1 • 8pm             Cat on a Hot Tin Roof doesn't scream "LGBTQ film festival" but what it does is give a snapshot into the unspoken reality of living in the closet and being unable to come to terms with who you are. Plus, who doesn't love young Paul Newman?
Celluloid Closet
            Fri, March 1 • 5:30pm             Celluloid Closet dissects the way homosexuality is dealt with in film history. It's moving, engaging and we wanted the content of the film to be a catalyst for conversation in how we've moved forward.
Cloudburst
            Sun, March 3 • 4:30pm             With an amazing performance from Olympia Dukakis Cloudburst reminds us love isn't just for the young.
Hedwig and the Angry Inch
            Thu, Feb 28 • 8pm             Hedwig and the Angry Inch is the only film in our festival dealing with transgender issues and the transgender identity. It's also a lot of fun and a great way to open a festival.
How to Survive a Plague
            Sat, March 2 • 4:30pm             The Oscar Nominee for Best Documentary, How to Survive a Plague, is a template for any activism movement. It's powerful and inspiring and teaches us how to take our future in our own hands.
Keep the Lights On
            Sat, March 2 • 2pm             Keep the Lights On is a moving story about love in the face of addiction. It's important to show that the gay community deals with the same troubles we all do, that the human experience transcends sexuality.
Stud Life
            Sun, March 3 • 2pm             New romantic relationships are challenging. But what if an old friendship gets in the way of that? Stud Life takes us to England to give us a snapshot at the stud lifestyle in the working class.
Tennessee Queer
            Sat, March 2 • 8pm             Tennessee Queer is a beautiful story of acceptance in a small Tennessee town. We're so lucky to have the writer/producer Mark Jones join us for a talk-back about his movie. Ticket Prices per Film: $9 Adults, $7 for Students (with ID, not available online)? QFEST PASS: $40 (http://www.proctors.org/events/qfest-2013)