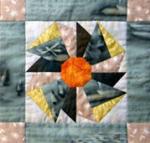 Sackets Harbor, N.Y.
- A Quilt for the Cure fundraiser in support of breast cancer research is planned for the June 11-13, 2010 biannual North Country Quilt Guild Quilt Show at Recreation Park Arena in Clayton, NY. Some of the mini-quilts that Guild members are making in sizes from 8 inches to 30 inches for auction will be on display and available for early bidding this weekend at the March 20-21, 2010 Great Lakes Seaway Trail Quilt Show in Sackets Harbor, NY. North Country Quilt Guild members will also be demonstrating quilting techniques at the show in Sackets. Final bids on the mini-quilts will be taken at the June 11-13 show in Clayton with the auction on Sunday, June 13. The North Country Quilt Guild meets the 4th Tuesday of the month September-November and January-May at 7pm at the Black River Elementary School. Each meeting includes a speaker or program and quilts "show and tell." The Guild was founded to make quilts for charity and continues that mission with its Quilt for the Cure auction and other projects. The Guild is on Facebook at
http://www.facebook.com/pages/North-Country-Quilting-Guild/145463590571
.
###
Photo Caption
: Original pinwheel design by North Country Quilt Guild President Mary Knapp.
Contact
: Teresa Mitchell (315) 646-1000 Carol Hunter (315) 649-5990