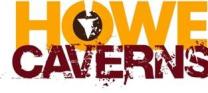 Howes Cave, N.Y.
-- It's time for Rachael Ray to enjoy Howe Caverns underground world and the tempting treats above the earth when the program,
Rachael's Vacations: Outdoor Adventures
, features Howe Caverns in the July 2 episode. The show is scheduled to air at 11 p.m. Eastern Time on the Food Network. A celebrity chef, author and host of several syndicated television shows, Rachael Ray was born in Glens Falls. The theme of Rachael Ray's Outdoor Adventures is to explore "all that this great county has to offer -- from hiking and kayaking to lakeside lobster bakes." "It was more than a year ago when we received our first call from the show's production company," said General Manager Robert Holt. "The crew arrived last July and sampled lunch and breakfast in our Café, plus homemade fudge in the Sweet Shop." "This season, we're happy that Rachael chose to Go Underground for adventure," Mr. Holt said. After touring the cave, the Caverns Café served Cave House Chowder (shrimp, clams, chicken, hot Italian sausage, potatoes and corn), Tanzella Panini (mozzarella, fresh basil, tomato, olive oil and balsamic vinegar on grilled Ciabatta bread) and Breakfast Pizza (sausage, bacon and mozzarella). In the Sweet Shop, homemade Peanut Butter Explosion Fudge was made with marshmallows, chocolate chips and walnuts in the recipe. This is the third time in recent months that Howe Caverns has been featured on national television programs. In March, Howe Caverns played a role in
The Real Face of Jesus?
on The History Channel. The entrance to the Winding Way served a Jesus' tomb. A second scene, on the lawn of the Howe Caverns Estate with the sun and mist rising, captured the look of Jesus walking in the desert. In May of 2009 Howe Caverns and its cave-themed motorcycle, created by Orange County Choppers in Newburgh, were the featured attractions of an episode of
American Choppers
on The Learning Channel. The motorcycle is on display in the Howe Caverns Visitor Center. Howe Caverns, the largest cave open to the public in the Northeast, is located between Albany and Cooperstown, off I-88 at Exit 22. Howe Caverns is open daily (except Thanksgiving and Christmas Day). Hours are from 9 a.m. to 6 p.m.from April through October. From November through March, the hours of operation are from 9 a.m. to 5 p.m. For more information, call 518-296-8900 or visit the website,
http://www.howecaverns.com/
.       
###
MEDIA CONTACT:
Kathy Condon * Condon Communications PHONE: (518) 436-1103 * CELL: 518-441-0259 E-Mail:
condonkathy@gmail.com