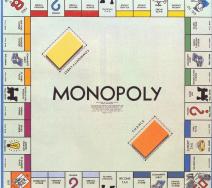 Who really invented Monopoly?
Rochester, N.Y.
- A rare and unique early version of Monopoly®, used as evidence in a controversial, 10-year legal copyright battle over the iconic American game?s true inventor, has been acquired by Strong National Museum of Play in Rochester, New York-home of the National Toy Hall of Fame®. The museum is pleased to announce that the second oldest known version of the world?s most popular board game ever has been added to its world-renowned collections of play-related objects: a folk-art Monopoly game created by a member of the Heap family between 1910 and 1917 when the family lived in Altoona, Pennsylvania. The Heap board game also has the distinction of being the oldest Monopoly game with all its playing pieces intact including hand-made money, property cards in color groupings, and houses and other "improvement" buildings. The Heap game was an important piece of evidence in a Monopoly copyright dispute that began in 1974 and spanned a decade. To briefly summarize the copyright disagreement: Pennsylvanian Charles Darrow claimed to have invented the game of Monopoly and sold the rights to Parker Brothers in 1935. In 1973, Ralph Anspach, a professor of economics, invented a game called Anti-Monopoly
TM
; and, in 1974, became embroiled in a lawsuit for trademark infringement brought against him by the General Mills Fun Group. While Anspach never drew a "Go to Jail!" card in his legal battle over the Monopoly copyright-his case dragged on for 10 years, eventually landing in the Supreme Court. In his own defense, Anspach uncovered a number of earlier versions of Monopoly-what he referred to as "folk art" games that were introduced long before Charles Darrow?s 1930s "invention"; among them, the Heap version, recently purchased by Strong National Museum of Play. The existence of this hand-drawn and colored pre-Monopoly game provided evidence that Darrow, popularly credited as the inventor of Monopoly, was not the actual inventor after all, and helped lead to Anspach?s ultimate judicial victory. According to Strong curator Nic Ricketts, "John Heap, grandson of the inventor of the Heap game, also testified at Anspach?s trial and remembered playing this game as a child as early as 1913 and calling it "monopoly.? This important new acquisition helps us to show the history of one of the nation?s most popular games ever, and one of the iconic toys that is honored in our own National Toy Hall of Fame." Strong National Museum of Play owns approximately 65 additional Monopoly sets and related games; among them a rare, early version by Charles Darrow, hand-colored on oilcloth rollup board- one of only two such existing versions of the game (and the one in best condition). Strong is contemplating a special display of both the Heap and the early Darrow Monopoly games during the museum?s National Toy Hall of Fame induction on November 4, 2010. Strong National Museum of Play is the only museum in the world devoted to the study of play and is home to the world?s most comprehensive collection of play-related objects including games, toys, dolls, and electronic games. You can learn more about the museum and visit its online collections at
http://www.museumofplay.org/
.
A Brief History of Monopoly®
Monopoly, the most popular board game in history, began life as The Landlord?s Game in 1904. Elizabeth Magie devised the game to point out the social pitfalls of unequal wealth among people. But instead, players greedily collected huge piles of money and property, delighting in opponents? financial troubles. Circulated informally at first, the game only gained popularity when Pennsylvanian Charles Darrow produced the first commercial version in 1934. By that time, several changes had worked their way into Magie?s educational tool. Players could raise rents by "building" houses and hotels, and creating a "monopoly" of properties allowed incredibly steep rents. Squash the competition and drive up profits-not bad, eh? Darrow produced 5,000 copies of Monopoly at his own expense and sold them through a Philadelphia department store. Hearing of his success, Parker Brothers bought the rights in 1935 and sales soared. At the height of the Great Depression, Monopoly was the best selling game in the country. Since then, Monopoly has appeared in 40 countries and 25 foreign languages. The original game used property names familiar to residents of Atlantic City, New Jersey. But after 1994, Parker Brothers began producing versions representing major cities throughout the country.
###
Contact
: Susan Trien 585-410-6359
strien@museumofplay.org