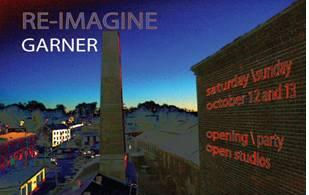 Garnerville, N.Y.
- The
Re-Imagine Garner
exhibition celebrates the new vision for GARNER Arts Center* by featuring over 100 artists of the Hudson Valley (and beyond). The reception will be a celebration with live music, food, wine and beer and silent auction which will benefit the re-building and re-opening of the new GARNER Art Center in
building 35
, the former mill cafeteria at the beautiful and historic factory complex in Garnerville, New York, after Hurricane Irene destroyed GARNER Arts Center's Main Gallery in August 2011. The artist studio tours will allow visitors to see more than 30 artists working at their crafts including sculpting, painting, printmaking, photography, jewelry and textile arts, as well as art installations placed throughout the complex and more. For the fist time, visitors will be able to see the studio of GARNER Arts Center's first Artist-in-Residence, world renowned artist-photographer
Spencer Tunick
. Tunick is best known for organizing large-scale nude shoots; since 1994 he has created over 75 temporary site-specific installations in the United States and abroad.
Re-Imagine GARNER
Sponsors:  This exhibition is made possible with the generous support of First Niagara Bank Foundation, Garnerville Holding Co., Inc., the Town of Haverstraw, the Village of West Haverstraw and Tashi Dolma and Tashi Rabten, founders of Tibetan Home of Hope.
Notice Regarding Access:
Due to damage from the storm, there is no elevator and no wheelchair access to the Dye Works Gallery. Some, but not all, studios are ADA accessible.
Gallery Hours: Sat. Oct. 12
th
, 2 - 11 PM   Sun.  Oct. 13
th
, 12-5 PM
"Re-Imagine Garner
GARNER Arts Center
(formerly GAGA) Dye Works Gallery October 12-13, 2013
Reception\Party:  Saturday, Oct. 12th,    6-11 PM
-Free Admission
-Live Music   -Food   -Silent Auction
OPEN STUDIOS
: Sat.  Oct. 12
th
, 2-7 PM   Sun. Oct. 13, 12-5 PM
-Free Admission
###
*GARNER Arts Center is a Non-Profit Center for Visual & Performing Art Experiences located 35 miles from Manhattan in the lower Hudson Valley within the Garnerville Arts & Industrial Center, an historic 19
th
 century textile mill.  GARNER Arts Center provides unique and vibrant performance, gallery and creative space and presents artistic programs of exceptional merit for the benefit of a multi-cultural population.  Its mission is to preserve the sanctity of the original textile mill buildings and creekside landscape, while offering an inspired setting, which honors individual expression in a modern age. 
Contact:
James Tyler, Executive Director, 845-548-8918 (Press only) Robin E. Rosenberg, President, 845-947-7108
http://garnerartscenter.org/