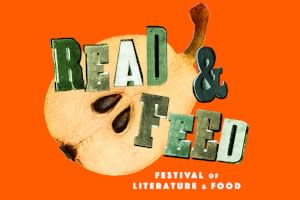 Sunday, July 23, 12pm - 5pm
Tickets $15 ($10 Students/Seniors) From Http://Bit.Ly/Readfeedpr
Hudson, N.Y. - Basilica Hudson, in partnership with CLMP (Community of Literary Magazines and Presses), announces the return of its celebration of literature and food: READ & FEED, which will take place from 12PM - 5PM on Sunday, July 23, 2017. The festival includes a celebration of legendary Hudson-based poet John Ashbery's 90th birthday, acclaimed food writers and chefs presenting demonstrations and interactive discussions, a superstar collection of authors offering literary performances and novel conversations, a marketplace featuring some of America's most intriguing small literary publishers and artisanal food makers, plenty of affordable food and much more.

Tickets for the event are available now via basilicahudson.org at the new price of $15 ($10 students/seniors).

Festival programming highlights include:
An all-star, twenty person marathon reading of John Ashbery's Girls on the Run, preceded by a gathering of poetry luminaries - including Ann Lauterbach, Robert Polito, Joan Retallack, and Dara Wier - explaining How to Love Reading Ashbery, in celebration of Ashbery's 90th birthday
Whiting Award-winning poetry superstars Simone White and LaTasha N. Nevada Diggs performing and talking poetry, food and music, while cooking up collard greens & salmon cakes
A multimedia talk on poetry and public art by poet, Rain Taxi publisher, and book festival director Eric Lorberer, formerly presented at The Walker Art Center and elsewhere
The READ & FEED return of celebrated cookbook author and restaurateur Rozanne Gold, in conversation with literary chefs Rohan Kamicheril, Matt Lee, Susan Simon and Lukas Volger, who will talk food, memory and the senses, while audience members find out if they are supertasters.
Cooking masterclasses from "Barb the Butcher" (Barbara Fisher), teaching attendees how to make sausages, and Rohan Kamicheril, making a tantalizing South Indian pounded rice delicacy
A private Weepy Booth in association with the much-loved Crybabies podcast, in which presenters Sarah Thyre and Susan Orlean and special guests regale listeners with the things that make us teary, presented in the intimate setting of Basilica's Buddha Booth
Delicious and affordable South Indian cuisine created by Rohan Kamicheril of the popular Tiffin food blog in READ & FEED'S brand-new Community Café
A marketplace of local, independent literary publishers and artisanal food vendors

Melissa Auf der Maur, Co-founder and Director of Basilica Hudson, says:
"Basilica's programs have been greatly informed by our surroundings, from the history and landscape of the region to the range of artists who make their home here. The abundance of talented writers and innovative presses in the area has slowly revealed itself to us, and upon meeting Jeffrey Lependorf, CLMP's Executive Director, and realizing our shared vision, READ & FEED naturally followed. Merging literature with the rich history of artisanal food and agriculture in the Hudson Valley allows Basilica Hudson to serve as a gateway for visitors to discover the talents and commitment of our community, and advances our goal to serve as a platform for the many forms of making and creativity in our region."

###
 
About Basilica Hudson
Basilica Hudson is a non-profit multidisciplinary arts center in Hudson, NY, supporting the creation, production and presentation of arts and culture while fostering sustainable community. Founded in 2010 by musician Melissa Auf der Maur and filmmaker Tony Stone, Basilica Hudson makes its home in a spectacular solar-powered reclaimed 1880s industrial factory on the waterfront of the historic City of Hudson. Weekend destination events comprise the core of Basilica Hudson's music, performance, film, food and literary programming, alongside regular film screenings series, art exhibitions, and other community gatherings.

Deeply rooted in its community, Basilica Hudson has evolved in tandem with the City of Hudson's ongoing transformation and has drawn inspiration for its mission and programs from the city's eclectic and epic history, as well as the regional geography and history. Through its programs, Basilica Hudson invites audiences to discover Hudson and the region, and strives to forge experiences that aspire to the scale, grit and beauty of its surroundings. Historic Hudson serves as a gateway to riches of the Hudson Valley, and reflecting the historical and agricultural spirit of the region, the city is increasingly recognized as a destination for music, food, art, antique, vintage, and history enthusiasts.

Basilica Hudson's artistic program has taken shape through collaborations with many partners, visiting artists, and friends, supported by adventurous audiences and community members. Drawing inspiration from its location, in addition to its regular arts programs, Basilica Hudson has expanded its roster of programs with each season to include a range of community programs. Annual Farm & Flea markets celebrate the broad regional community of collectors, makers and artisans, and newer food-focused programs, including Read & Feed, reach into the admirable history and resurgence of agriculture and farming in the Hudson Valley. The broad range of programming is presented April to November each year, and welcomes a range of local, regional and national audiences.

About CLMP
CLMP, the Community of Literary Magazines and Presses, ensures a vibrant, diverse literary landscape by helping small literary publishers work better. We communicate the art of literary publishing to readers, writers, booksellers, librarians, educators, funders and other literary stakeholders, and work to bring all of these communities together. CLMP carries out this mission so that essential literary voices from all corners can make their way from writers to readers.

CLMP exists to serve magazines, presses, Internet publishers, and chapbook and zine publishers mission-driven to publish literature. Independent literary publishers make up an underserved, uniquely vulnerable and essential field that connects the greatest diversity of writers to equally diverse communities of readers. Since 1967, CLMP has worked to bring these literary publishers together to form a mutually supportive community that is often at the vanguard of progress. CLMP provides technical assistance, facilitates peer-to-peer learning and group action, and builds bridges to connect diverse communities of literary stakeholders.

For 50 years, CLMP has been a sustaining lifeline—raising publishers' organizational capacity, helping them connect their writers to more readers, and serving as a dependable, essential hub for nurturing community support.

Visit basilicahudson.org for more information on this and other upcoming events this season.