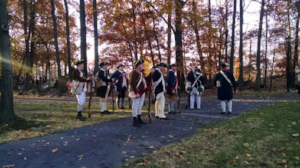 Newburgh, N.Y., May 31, 2017 -- Come visit Washington's Headquarters State Historic Site, from 1:00 PM to 4:00 PM, on June 3rd to see re-enactors from the 4th Connecticut Regiment perform musket drills, military demonstrations, and answer questions about the life of a soldier in the Continental Army. The site itself will be open from 11am – 5pm with admission entitling you to a tour of the historic Hasbrouck House, which served as Headquarters for General Washington during the last 16 ½ months of the Revolutionary War. Also included is access to the museum building, which contains the award winning exhibit, Unpacked & Rediscovered: Selections from Washington's Headquarters' Collection.
While visiting Washington Headquarters, be sure to check out the Newburgh Illuminated community-wide festival celebrating all of the unique experiences Newburgh has to offer.
For further details or directions please call the site at 845-562-1195.
About Washington's Headquarters State Historic Site
Washington's Headquarters State Historic Site is a registered national historic landmark.  It is located at the corner of Liberty and Washington Streets within the city of Newburgh's East End Historic District.  The site is one of 35 historic sites within the New York State Office of Parks, Recreation and Historic Preservation and is one of 28 facilities administered by the Palisades Interstate Park Commission in New York and New Jersey.  For further information contact: (845) 562-1195.  For more information about New York State Parks, please visit our website at www.nysparks. com.   For more information call 845-562-1195 or visit us on Facebook at www.facebook.com/washingtonsheadquarters.
Contact:
Elyse B. Goldberg | elyse.goldberg@parks.ny.gov | 845-562-1195