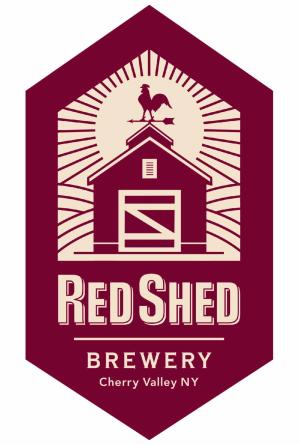 English Pub-Style Taproom Features Cask Beer System and English-Inspired Fare  
Cherry Valley, N.Y. – Red Shed Brewery is welcoming a third location to the family – Red Shed Ale House. The new taproom, located on Main Street in Cherry Valley, is reminiscent of an English pub with its dark, yet warm and cozy atmosphere. It is currently open Thursdays through Sundays from 3:00 – 9:00 P.M. (as business warrants) with plans of remaining open all year long.  
"Red Shed Ale House has a different style and personality from our other locations. We are excited for new and returning customers alike to have another taproom for enjoying our beer and making more memories while doing so," said Jack Hasbrouck, owner of Red Shed Brewery. As a dedicated traveler, Hasbrouck found himself rather keen on drinking a pint in English pubs, ultimately inspiring him to create a pub-style ale house of his own. 
Red Shed Ale House serves six of their fresh Red Shed beers on tap, along with local wines and ciders. An additional three beers are currently served through a cask system, in which the beer endures a second fermentation in the same vessel it is served from. Originating from Great Britain, this style of beer is naturally carbonated and served at cellar temperature, giving a distinct taste and feel. 
"Beer drinkers will notice a difference in beer from the cask," said Wyatt Crowley, brewer at Red Shed Brewery. "A cask system allows the beer to naturally carbonate and serves it around 50-degrees, letting the drinker fully taste the complexities of the beer's flavor." 
The taproom also offers a rotating food menu of light, English-inspired fare. In addition to weekly specials, the menu features a small variety of English pies – puff pastries with a savory filling, served with horseradish aioli and a spring salad. 
Starting Nov. 11, the Ale House will have live music on Friday evenings from 6:00 – 8:00 P.M. It will also show soccer games on Sundays, along with offering dart boards and room to play indoor cornhole.  
For more details about all locations, specials, and events, visit www.redshedbrewing.com.   
### 
ABOUT RED SHED BREWERY  
Red Shed Brewery is the only farm brewery in the Cooperstown, New York area. It was founded in 2015 by Jack Hasbrouck, who continues today in the ownership. Jack named the brewery after a little red milk shed on his property and due to its growing popularity, he converted the shed into a taproom for locals. The brewery's motto is "local, handcrafted, fresh," emphasizing their use of New York State grown hops and grains for their signature recipes. Visit www.redshedbrewing.com for current hours and more information.   
Red Shed Brewery Cooperstown Tap Room, 709 County Highway 33, Cooperstown, New York 13320. Boasts 20 taps, full food menu at the Fresh Eats food trailer and beer garden with picnic tables.  
Red Shed Brewery Cherry Valley Tap Room, 817 Butterbowl Rd, Cherry Valley, NY 13320. Includes the brewery and original little red milk shed converted into a taproom. Open during the summer months. 
Red Shed Ale House, 10 Main St, Cherry Valley, NY 13320. The newest location in the Red Shed family, this English pub-style taproom serves light English fare and a rotating list of beers on tap. 
MEDIA CONTACT:
Colleen Onuffer
Office: 585-394-0787 x2
BREWERY CONTACT:
Michelle Freehafer
607-431-8461