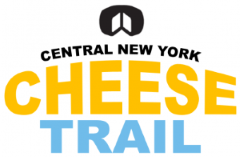 Utica, N.Y. – Four counties in the Central New York Region have partnered together to launch the CNY Cheese Trail. The trail includes eight locations between the counties of Herkimer, Madison, Otsego and Oneida. In conjunction with the launch, each trail stop is hosting Fall Open House events on Saturday, Oct. 12. Visitors will have the opportunity to visit each cheesemaker and those who complete the trail will receive an insulated tote bag.
Suzie Jones, one of the trail co-founders and owner of Jones Family Farm, said, "We launched the CNY Cheese Trail thinking it would be smart to pool our resources, promoting all the wonderful cheeses our area has to offer. We have since learned that customers are excited about the trail concept. They seem happy to find us and support our local businesses."
Kelly Blazosky, President of Oneida County Tourism, said, "We are so happy to launch the CNY Cheese Trail as a regional program across four counties. We know people travel for trails and food so this seems like the perfect fit for something that will impact tourism and align with our CNY Fresh campaign. We also strongly promote the agriculture industry at shows and to the media, so this is a great way to tie it all in."
For the Oct. 12 Fall Open House, two makers in Oneida County participating are Stoltzfus Dairy and The Adirondack Cheese Company. Both will offer samplings, specials, and discounts. Other locations like Original Herkimer Cheese will have gourmet grilled cheese sandwiches. Jones Family Farm is holding mini-cheesemaking workshops and teaching guests how to stretch fresh mozzarella curd.
"People are hungry for real experiences; to see the cheesemaking process, to meet the makers, to visit a real farm. As a culture, we've become disconnected from our food and its sources. Any opportunity to rekindle that connection is good for consumers, farmers and producers," Jones went on to say.
The CNY Cheese Trail officially launched in July in conjunction with the Little Falls Cheese Festival. It was created to elevate the culinary experience in the heart of NY. The goal is to have visitors and residents discover the joys of local dairy and appreciate the diversity and terroir of the region's rich cheesemaking heritage. For more information on the trail and all Open House events, visit https://www.oneidacountytourism.com/area-events/v/4840/cny-cheese-trail-open-house/2019-10-12.
##
Contact: Sarah Foster
Office (315) 724-7221
Cell (315) 749-8958