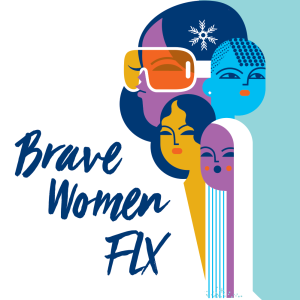 Virtual race celebrates brave women of the Finger Lakes
Auburn, N.Y. – Registration is now open for the Brave Women FLX Winter 100K virtual challenge, taking place remotely from Jan. 1 – Mar. 31, 2022. Participants from all over the country are challenged to walk, hike, run, snowshoe, snowboard, ski, skate, skip, shimmy, shuffle, stroll – or all of the above – as they tally up 100 kilometers while celebrating brave women past and present in the Finger Lakes. Race information and registration is available at: https://runsignup.com/Race/NY/FingerLakes/WhereBraveWomenWinter
Brave Women FLX, a marketing campaign led by the northern counties of the Finger Lakes vacation region, is encouraging women and their fiercest female friends or family members to "blaze a trail" and participate in this year's winter race – whether together or apart. As a virtual event, registrants can get their steps in however they want, wherever they winter.
Registration for the winter challenge is on a rolling basis now through Mar. 15, 2022. The $20 entry fee helps market women-owned businesses and women-focused historic sites in the Finger Lakes region. In addition to a "genuine feeling of badassery" for completing the challenge, all participants will receive a Brave Women FLX swag pack with fun goodies.
For those local to the Finger Lakes, suggested routes across the region to accumulate steps are available on the Brave Women FLX website at: www.fingerlakestravelny.com/where-brave-women-winter/100k-virtual-challenge/ These engaging itineraries allow participants to learn about the historic trailblazers that once called the Finger Lakes region home, while supporting women-owned businesses of today such as boutiques, breweries, restaurants and more. Additional information about the region, its history and area women blazing their own trails in business, will be shared with registrants in a weekly email newsletter.  
Led by Tour Cayuga, Visit Finger Lakes, Visit Rochester and Discover Seneca, the Brave Women FLX campaign kicked off in January 2020 to celebrate the 100th anniversary of the 19th amendment, granting women the right to vote. The Women's Rights Movement, which had a strong influence on the passing of the 19th amendment, was born out of the Finger Lakes region, thanks to the courageous women who called this area home. Historic trailblazers like Susan B. Anthony, Elizabeth Cady Stanton, Harriet Tubman and many others, who changed the course of history. In addition, the region is filled with women-owned restaurants and wineries, female brewers and entrepreneurs, and activities that complement any visit.
Information about Brave Women FLX, including biographies of the region's most notable movers and shakers, historic sites, places to stay and more, is available at: bravewomenflx.com
About Brave Women FLX
History tells us that it takes a brave woman to thrive in a Finger Lakes winter. Trailblazers like Harriet Tubman, Elizabeth Cady Stanton, and the Iroquois matriarchs carved out a new future for all of us in this fiercely beautiful region. As the epicenter of the women's rights movement, the Finger Lakes region applauds women both past and present. What began in 2020, the monumental year that marked the centennial of the 19th amendment, granting women the right to vote, continues as an annual celebration. Come honor their bravery and experience their stories on a visit to the Finger Lakes region. While you're here, you can also support the innovative and creative women who are blazing their own trails in business.
Website | Facebook | Instagram 
Media Contact:
Colleen Onuffer
Break the Ice Media
O: 585-394-0787 x2
C: 716-864-1263