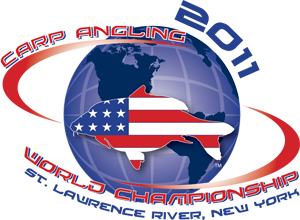 Ogdensburg, N.Y.
- When the prestigious Carp Angling World Championship takes place in September on the St. Lawrence River in New York State, it will be only the second time in history that a competitive world-class pro-level carp fishing event has come to North America.   Elite anglers representing Canada, the Channel Islands, Greece, the Czech Republic, England, France, Hungary, Ireland, Luxembourg, the Netherlands, Poland, Romania, Russia, Serbia, Slovakia, South Africa, Spain and the Ukraine plus over 14 American states and territories have registered so far to make this a truly worldwide competition. A special bonus for the CAWC this fall is the return of Brits Tim Paisley and Steve Briggs who are defending their title as reigning world champions on the St. Lawrence River.  The pair demonstrated amazing skill in an exciting battle for first-place back in 2005 on the big river.  Together they captured a grand total of 80 carp at 1,590 pounds from a secluded spot near the town lines of Waddington and Lisbon.  It was Briggs first time to the St. Lawrence and a favorite of Paisley's over the years.  Since their big win six years ago, the two have occasionally returned to the region for leisure fishing.  Paisley and Briggs are well-known pro carp anglers representing Angling Publications - the publisher of the world's largest carp fishing magazines. Paisley and Briggs will be under the watchful eye of the field of international contenders who will pit their technique and endurance against the pair during the 115-hour contest.  Over $130,000 in cash and prizes are up for grabs along the 35-mile course stretching from Ogdensburg to Massena, New York.      BASS founder Ray Scott will be on hand as the tournament's special guest and will serve as emcee during the event.   Scott has a keen affection for the sport and is looking forward to mingling with the international competitors. Organizers encourage both fans and the curious to come out to watch the skill of these elite competitors along the river September 24-30.  The event headquarters are at the arena in Waddington.  Maps, leader board standings and schedule of events are located on-line.  Opening and closing ceremonies are open to the public. The contest is hosted by the St. Lawrence County Chamber of Commerce.  Among the sponsors and partners are Nash Baits and Nash Tackle, Big Carp Tackle, Enterprise Rent-a-Car, Ray Scott Outdoors, 101.5 The Fox, St. Lawrence Experience and Time Warner Cable.    Oklahoma-based CARP Tournament Series (
http://www.carptournamentseries.com/
) brings the competition to the St. Lawrence after securing sanction from the International Carp Fishing Association in England granting them an esteemed ICFA ratification.  David Moore - America's foremost authority on competitive carp angling and ICFA's USA representative - is tournament director for the CAWC.
###
Contact
: Kathleen Kelly-Ori
kathy@carptournamentseries.com
(315) 764-5654