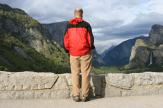 Dr. Charles Mitchell Guest Speaker
His students rate him as "brilliant, funny and dedicated"
Glens Falls, NY
- Join Dr. Charles Mitchell at The Hyde Collection at 2pm on Sunday, February 9, 2014, where he will speak about artists' representations of our magnificent national parks and how national parks define our relationship to nature. Dr. Mitchell is an associate professor of American Studies at Elmira College, Elmira, New York.  He examines the human relationship with nature through art, literature, and history in courses such as
Nature and the American Imagination
,
Representing the American Landscape and American Environmental History,
and is described by his students as "...witty, thought provoking, and worth getting up at eight o'clock in the morning for." The lecture compliments The Hyde's current exhibition
Ansel Adams: Early Works
which run from January 25 through April 20, 2014 in Wood Gallery. This program, which is free and open to the public, is made possible through the support of the New York Council for the Humanities'
Speaker in the Humanities
program. Three exhibitions,
Ansel Adams: Early Works;
Photo-Secession: Painterly Masterworks of Turn-of-the-Century Photography;
and
Winter Light: Selections from the Collection of Thomas Clark,
are currently at The Hyde.  Hours are Tuesday - Saturday: 10am-5pm; Sunday: 12noon-5pm.  Admission is: members are free; general admission $8; seniors (60+) & students $6; Children 12 & under and active duty U.S. military and their families  are free. In addition, second Sundays throughout the year are free.
Image provided by Mr. Mitchell
###
The Hyde Collection is a historic house and art museum complex with a distinguished collection consisting of works by American and European artists such as Botticelli, Rubens, Rembrandt, Picasso, Homer and Eakins, as well as important decorative arts and antique furnishings. The Museum provides changing exhibitions in two gallery spaces, lectures, concerts, family activities and school programming,  For detailed information visit
www.hydecollection.org
or call 518-792-1761.