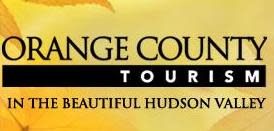 Focus on celebrating this New Year's Eve Hudson Valley-style!
Orange County, N.Y. (December 18, 2019) – Here comes 2020! A special new year worthy of a special Orange County, N.Y. celebration. Focus on exciting and elegant events happening right here in the Hudson Valley. Get your Gatsby on at a fun Roaring 20's-themed gala or join in the excitement at a national treasure, as West Point's historic Thayer Hotel elegantly rings in the New Year. Whether you're looking for a festive night out with friends, a romantic evening with your significant other, or to gather together with the whole family, Orange County has a party for you. Choose from a wide variety of New Year's Eve celebrations with nearby places to spend a restful night afterwards. Look out, Big Apple! The Orange has all of the revelry and sophistication people look forward to on New Year's Eve.
"New Year's Eve is a special night to reflect on the past and celebrate our hopes for the future, and it's important to find just the right place to share the magic with the ones you love," said Amanda Dana, Orange County Tourism Director. "Some of our most popular event spaces are outdoing themselves to usher in the new decade in style. No matter which you choose, you're sure to have a memorable good time."   
Check out all of the New Year's Eve listings at www.OrangeTourism.org/events and make your reservations now. Here are a few of the fantastic places you could be when the clock strikes midnight. Happy New Year!
Stay safe and stay the night! Wake up comfy and cozy for the first day of 2020 in one of Orange County's B&Bs or select hotels. From rustic to contemporary, there are great places to book your overnight accommodations early, so you can celebrate responsibly.
About Orange County Tourism
Orange County Tourism, based in Goshen, N.Y., is the county's tourism headquarters and a participant in the I LOVE NY program. A comprehensive listing of area attractions, lodging, and events can be found at www.OrangeTourism.org. Like Orange County Tourism on Facebook for the latest news on local happenings. For a free copy of the Orange County Travel Guide, e-mail tourism@orangecountygov.com or call 845-615-3860.
###
For more information, contact:
Jason Upchurch
Focus Media, Inc.
(845) 576-2218
jupchurch@focusmediausa.com