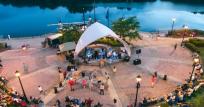 Amsterdam, N.Y.
- The City of Amsterdam Recreation Department has announced its 2013 Riverlink Park Concert Series, taking place at the city's beautiful Riverlink Park in Amsterdam. For more information, visit
http://www.riverlinkconcerts.com/
.
Saturday, July 6th, 2013
The Audiostars - 7pm A kinetic 4-piece band that delivers know-'em-by-heart classic songs with an energy and passion that defines live music at its very best.  Featuring former members of some of the top bands in the Northeast.
Saturday, July 13th, 2013
Lucky Tubb and the Modern Day Troubadours - 5:30pm - Low 'N Lonesome 7pm - Lucky Tubb (great nephew of the legendary Ernest Tubb.
Saturday, July 20th, 2013
The Grand Slambovians - 7pm Have been called everything from 'hillbilly-Pink Floyd' to 'folk-pop' to 'surreal Americana'. Their melodic avant-folk conjures with an exotic instrumental arsenal way beyond standard rock regalia and a palette of styles ranging from dusty Americana ballads to huge Pink Floydesque cinematic anthems.
Saturday, July 27th, 2013
Betty and the Baby Boomers - 7pm draw on sources including traditional folk, contemporary artists like Bruce Cockburn and Dougie MacClean, and classic "folksingers" like Woody Guthrie, Pete Seeger, and Phil Ochs recasting their music in distinctive arrangements that feature outstanding three and four part harmonies.
Saturday, August 3rd, 2013
5th Annual Riverlink Jamboree - 4pm featuring,The Bear Bones Project is a five-piece rock band that formed in 2009.
Saturday, August 10th, 2013
Skeeter Creek - 7pm has built a reputation as "THE hardest working, most dedicated musicians to come from the Northeast Country Music scene in years".
Saturday, August 17th, 2013
Berkshire Bateria/Bossa Triba - 7pm is a multi-talented ensemble featuring drummers, dancers, singers and melodic instrumentalists performing a wide variety of music from Brazil: hot Samba rhythms and cool Bossa Nova jazz; a raucous dance party!
Saturday, August 24th, 2013
The Chronicles - 7pm Have chops! Combining jazz, hip hop, funk, soul, and gospel, they bring a unique sound that defies classification.
Saturday, August 31st, 2013
Tropic Rhythm - 7pm- Retreat to the Caribbean Islands with the traditional sounds of the Hispanic Culture to relax or just dance the night away. This Latin American Band features arrangements of Bolero, Merengue, Salsa, Motown, R & B, and Jazz.
###