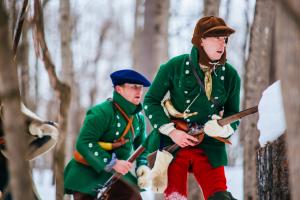 Saturday, February 26, 2022
Ticonderoga, NY - Robert Rogers and his Rangers return to Fort Ticonderoga Saturday, February 26, 2022 through the dramatic 1759 Battle on Snowshoes reenactment from 10am-4pm!
The Battle on Snowshoes event vividly recreates the final winter battle between a scout of Mohawk warriors, British Regulars, and Rogers' Rangers, versus the French garrison of soldiers, Canadians and Native American warriors at Fort Ticonderoga on March 7, 1759. This event is designed to be a rich experience for guests of all ages as they explore the final Battle on Snowshoes within the year 1759.
Throughout the day, visitors will explore life for the French garrison inside Fort Ticonderoga, discovering the sights and sounds of daily life for the soldiers guarding French Canada's front line. Hear the rousing beat of French drummers during a 12:30 p.m. concert highlighting the songs that regulated military life and learn the words to French folk songs that soldiers enjoyed as they worked. Savor the aroma of a hearty soup as it is prepared using dried and salted rations. Tour through the French soldiers' quarters and watch as soldiers cut the firewood used to heat them. See the few simple luxuries of the Officers' quarters and learn more about the dire situation for French Canada in 1759.
Hands-on programming explores the components of French artillery ammunition as Fort Ticonderoga staff recreate the shot stockpiled for the coming summer siege. Strap on your snowshoes and march out to the edge of frozen Lake Champlain to see the real battlefield for the 1759 presentation of the Battle on Snowshoes. During the 1:30 p.m. battle, become immersed as the Rangers ambush turns into a fight for their lives and the French attempt to cut off their retreat. Winter footwear is strongly encouraged!
"Although the 1759 Battle on Snowshoes is the least familiar of the three Battle on Snowshoes, it was arguably Robert Rogers' most successful," said Stuart Lilie, Fort Ticonderoga Vice President of Public History. "This reenactment highlights the changing situation by 1759 as Mohawk Warriors and British Regulars made up the majority of Rogers' force working seamlessly with rangers. With both grand strategy and the visceral details for life on the front lines, we're excited to portray this dramatic prelude to the 1759 campaign, a turning point for the history of North America."
Background
Robert Rogers departed Fort Edward on a grand scout of French held Ticonderoga on May 3, 1759, leading 358 Mohawk Warriors, British Regulars and Rangers. They arrived on Cape Diamond--present day Mount Independence—across from the French fort early on March 7. They sat in ambush, awaiting French soldiers who hiked across Frozen Lake Champlain to cut firewood. Rogers sprung his ambush upon this French party who armed only with their axes fled back across Lake Champlain. As Rogers' party pressed on they came within 'pistol shot' of the fort walls as the French guard sortied out to attack them. As French Canadians, allied Native Warriors, and soldiers pushed on, Rogers' party retreated across the ice towards Mount Defiance. Safely in woods once more, Rogers' party broke free from the French, returning to Fort Edward with the latest news about the French fort, in preparation for the campaign to come.
About Fort Ticonderoga
Welcoming visitors since 1909, Fort Ticonderoga preserves North America's largest 18th-century artillery collection, 2,000 acres of historic landscape on Lake Champlain, and Carillon Battlefield, and the largest series of untouched Revolutionary War era earthworks surviving in America. As a multi-day destination and the premier place to learn more about our nation's earliest years and America's military heritage, Fort Ticonderoga engages more than 75,000 visitors each year with an economic impact of more than $12 million annually and offers programs, historic interpretation, boat cruises, tours, demonstrations, and exhibits throughout the year, and is open for daily visitation May through October. Fort Ticonderoga is supported in part through generous donations and with some general operating support made possible by the New York State Council on the Arts.
Photo credit: Naj Wikoff
For Further Information Contact:
Beth Hill - 518-585-2821