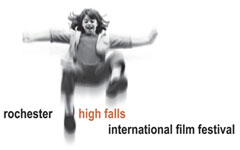 First "HF3 Shorts" theme will celebrate Rochester's 175th anniversary
Rochester, N.Y. (August 12)
- The Rochester High Falls International Film Festival will establish a year-round presence with a new short film contest that takes place every other month. "HF3 Shorts" will offer cash and movie screenings as prizes for unique digital movies three minutes or shorter in length.  "The filmmaking talent in the Rochester region is remarkable," said John Richardson, the Festival's executive director. "This new online short-film contest is just one more way we can support and encourage new and existing filmmakers - year-round."  For the contest's premiere, the Festival has partnered with the City of Rochester and announced its first theme, "Coming Home: Rochester's 175th Anniversary." Rochester Mayor Robert Duffy is helping to encourage participation, and is planning his own short film entry. "The Film Festival's new contest provides us with the perfect opportunity to ask Rochesterians to share their stories about our home town," Mayor Duffy said. "I'm thrilled to be able to add the HF3 Shorts contest to our celebration of the city's 175th anniversary." Deadline for entries of the first contest is Sept. 25, 2009. The winning film will premiere at the 175th Anniversary Gala on October 3rd, be screened at the 2010 Rochester High Falls International Film Festival, and receive $1,000. Every other month, the Festival will announce a different contest theme. For each contest, all entries will be judged by an expert panel led by renowned local film critic, Jack Garner. "The late Orson Wells said, near the end of his life, that the day is coming, thanks to the ease of today's hands-on technology, when anybody can make a movie. The challenge is to make them good," Garner said. "That's your challenge if you'd like to be part of the High Falls Film Festival's shorts program. I hope entries will cause me to bring my Number-10 rating out of retirement!" More information about the contest, including submission rules and a video introduction featuring Mayor Duffy, is available at www.RochesterMovieFest.com. The contest introductory videos were created by a team from the Festival and Crystal Pix. The website, created by Animatus Studio, will feature video links to all entries of each contest.  
About the Rochester High Falls International Film Festival
Since its inception in 2001, the Rochester High Falls International Film Festival has become one of the leading cultural events in Rochester and the surrounding region, boosting tourism with attendees who spend an estimated $1 million in and around the downtown festival sites. The festival, held annually in May, is a lively mix of emerging and well-established talent, with past guests who include Lynn Redgrave, Rita Moreno, Bill Pullman, Robert Forster, Christine Lahti, Angela Bassett, Jane Alexander, Candice Bergen, Joan Allen, Famke Janssen and Sally Kellerman, voice-over actress Nancy "Bart Simpson" Cartwright, producer Lauren Shuler Donner, and Shrek director Vicky Jenson. The Festival's short-film competition, HF3 Shorts, introduced in August 2009, broadens the organization's activities to year-round. Every two months, the Festival accepts entries of three-minutes-or-less short films that correspond to different themes. For more information about the Festival or its ongoing short-film competition, visit www.RochesterMovieFest.com.
###
Media Contact:
John Richardson 585-279-8307
jrichardson@highfallsfilmfestival.com