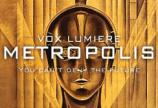 Vox Lumiere - Metropolis
Friday, April 27, 8 p.m. on the Mainstage
Schenectady, N.Y. -
Proctors arts and entertainment complex will present VOX LUMIERE  - METROPOLIS for one-night only at 8 p.m. on Friday, April 27, 2012. Metropolis is the groundbreaking film masterpiece that has forever captured the vision of the future. VOX LUMIERE - METROPOLIS is an electrifying adventure geared to leave audiences breathless through its daring pairing of this the 1927 classic film with a new rock score and a stage show.  It is the next evolution in entertainment wherein "rock concert meets silent film". Thrilling new music and breathtaking live performance meld with the beauty of the classic silent film METROPOLIS to transport audiences with a power and intensity that The Los Angeles Times called "Absolutely riveting!" Vox Lumiere has "gone back to the future" and created a whole new METROPOLIS* for the 21st Century. Thrilling new music, singers, dancers and musicians all come together with the genius of this original silent classic to transport audiences with an intensity and power The Los Angeles Times calls "Absolutely riveting!" As if you didn't know
Vox Lumiere (vox lu-mee-air) means "voices of light". Vox is Latin for voices and Lumiere is French for "light".
Vox Lumiere was invited to perform at the Cinematheque Francaise in Paris by the world-renown director Jean-Charles Tacchella most well-known for directing "Cousin cousine".
Vox Lumiere has been recognized with five 1st-round Grammy Nominations and two 21st-Century Filmmaker Awards for Excellence.
Vox Lumiere has performed in Europe, Canada, Mexico and throughout the United States.
The buzz...
A Masterpiece! - La Dauphine Libere" An Intense Experience Not Soon Forgotten. - Talkin' Broadway  A multidimensional blast of visual and auditory splendor!" -The Dallas Morning News An intense experience not soon forgotten. -Talkin' Broadway Vox Lumiere joins Cirque du Soleil and Stomp as a one-of-a-kind theatrical experience audiences crave! -The Daily Breeze
Tickets on Sale Now
Running time for VOX LUMIERE  - METROPOLIS is 90 minutes
.
Tickets
for
VOX LUMIERE  - METROPOLIS
are
$20, $30 & $40
and are available at
Proctors Box Office, (518) 346-6204 or online at proctors.org. Significant discounts on tickets are available for groups of 20 or more.  A listing of shows and pricing may be found at proctors.org/group_sales or by contacting Proctors Group Sales at 518-382-3884 ext. 139.
*Evolution of an Epic
Last September, Proctors presented Fritz Lang's 
The Complete Metropolis
featuring remastered with new footage, new score and LIVE organ accompaniment. In
METROPOLIS
, a towering city of the future, society is divided into two classes: one of planners and management, who live high above the Earth in skyscrapers; and one of workers, who live and toil underground, slaves to the whistle of Metropolis's ten-hour clock. Freder, the only son of Metropolis' ruler, lives a life of luxury. One day, as he and his friends play games in the lush, private Eternal Gardens, they are interrupted by a beautiful girl, accompanied by a group of workers' children. They are quickly ejected, but Freder is transfixed by the girl, Maria  - and decides to follows her down to the grim Lower City machine rooms. Freder falls in love with Maria, the working class prophet who predicts the coming of a savior to mediate their differences. "There can be no understanding between the hands and the brain unless the heart acts as mediator."  In 1927, METROPOLIS was the most expensive film ever made.  A quarter of the original sci-fi film was thought to have been lost forever. There have been numerous attempts to restore it, as well as previous discoveries of lost footage. But in 2008, in Argentina, a print with an additional 25 minutes was discovered. After 2 years of meticulous
restoration
, it premiered on May 12th at the Berlin Film Festival. The full length, "directors cut" hasn't been seen for 83 years!
###
Contact:
Thom O'Connor 518-382-3884 X166
toconnor@proctors.org