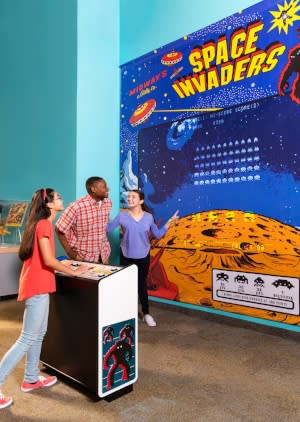 Rochester, N.Y. – The imaginative universes of science-fiction classics beckon at Rockets, Robots, and Ray Guns, an original exhibit opening at The Strong museum on Saturday, June 9. Back by popular demand, the exhibit explores the ways science-fiction books, toys, movies, and video games have captured people's imaginations and shaped the way they play. Travel to distant futures and faraway galaxies to explore key sci-fi themes in zones that couple artifacts from The Strong's collections with dynamic hands-on activities:
Aliens and Monsters: experience the realms of other-worldly creatures and play a variety of games based on monsters and alien life forms, such as Galaxian, Galaga, and Primal Rage. Zap the attackers from outer-space and try to save Earth in a giant version of the classic arcade game Space Invaders, then grab a friend to check out the new, multiplayer version of the popular game. Create your own alien or monster on light tablets in the custom drawing area. Listen to an original radio broadcast of The War of the Worlds by H.G. Wells.
Future Perfect: utopia or dystopia? Explore what the future might hold and learn about humankind's fascination with apocalyptic events by playing the classic Cold War arcade game Missile Command and viewing artifacts such as the Nuclear War game, the Apple II game Wasteland, a Katniss Everdeen figure from the popular series The Hunger Games, and a copy of George Orwell's ground-breaking novel 1984.
New Frontiers: travel at the speed of light and learn about humankind's fascination with exploring and colonizing space. View colony play sets and seek out new galaxies on rare arcade games such as Two-Player Computer Space and a cockpit version of Sega's classic vector game Star Trek.
Ray Guns: ray guns, blasters, phasers, heat rays, and other futuristic energy weapons have been a key part of space lore for decades. See a sampling of toy versions and check out the oldest toy ray gun ever created! Zap the bad guys in arcade game shooters such as Alien Extermination and Terminator II. 
Robots: direct a remote-controlled ball through a series of tracks, tunnels, and ramps in the Robot Park. Marvel at a wide-range of toy robots, including Big Loo (a talking, mechanical robot developed by Louis Marx and Company for Christmas season 1963), and learn about the influence of Japanese toys on the development of real robots. Make your own robot from a variety of materials and play robot-centric arcade games such as Robotron: 2084, Berzerk, and Xybots.
Rockets: learn about trajectory and velocity by creating and launching an air-powered, paper rocket. Solve a giant, 3-D puzzle depicting a rocket launch, and view rocket toys from the Cold War-era. Test your space piloting skills on classic arcade games such as Asteroids and Lunar Lander.
Space Heroes: discover the men and women of space—from real astronauts to fictional heroes—through dozens of related toys and games, including costumes and action figures of space opera legend Buck Rogers. Battle enemy starships on the 3-D space shooter arcade game StarBlade and fight back alien creatures as Ellen Ripley in Konami's Aliens arcade game.
The exhibit is produced by The Strong's International Center for the History of Electronic Games in partnership with Rochester Institute of Technology. It remains on view through September 3, 2018, and is included in general museum admission fees. Presented in the Fidelis Care Gallery at The Strong.
Playable machines in Rockets, Robots, and Ray Guns require purchased tokens. Money collected from the sale of tokens helps maintain these original artifacts.
Contact:
Shane Rhinewald, 585-410-6365, srhinewald@museumofplay.org
Noelle McElrath-Hart, 585-410-6325, nmcelrath@museumofplay.org