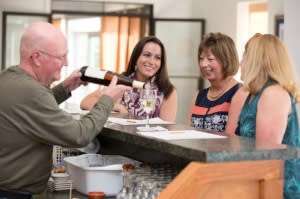 Lake Ontario Wine Trail, Williamson, NY -- The Lake Ontario Wine Trail is hosting their first and most popular event for 2018.  The 8th annual "Roll Out The Barrels" event will take place on Saturday and Sunday, April 7th and 8th from 11am – 6pm. Guests will enjoy special access to pre-released or newly released wines, spirits and ciders before they hit the tasting room shelves.
"The Lake Ontario Wine Trail is starting to create a reputation for hosting unique events," says newly elected Trail President Joan Allen of JD Wine Cellars.  "Not only are we producing some fantastic wines, but with our trail located within the top apple growing region of New York State, we are also producing excellent ciders and spirits."  The Roll Out the Barrels event is a great opportunity for guests to peek into some of the production areas and meet the vintners, distillers and cidermakers while tasting some great products.
Conveniently located between Rochester and Syracuse, the event is a self-guided tour along the trail allowing guests to travel at their own pace.  Tickets are $15 per person and can be pre-purchased online or at your first stop.  Detailed information on the stops along with ticket information can be found at www.lakeontariowinetrail.com.  Start your journey today on the Lake Ontario Wine Trail.
                                                                                   ###
The Lake Ontario Wine Trail is New York's stretches from the borders of Monroe, Wayne, and now Cayuga County, we encompass a wide variety of locally owned and operated businesses and beautiful scenery. For more information, maps, and tickets to events visit www.lakeontariowinetrail.com, or email the Lake Ontario Wine Trail at contactus@lakeontariowinetrail.com. We invite you to travel the trail…you'll be glad you did!
CONTACT:
Lake Ontario Wine Trail
Contact Person: Joan Allen, Trail President
contactus@lakeontariowinetrail.com
585-755-0821