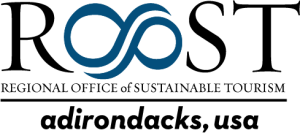 Lake Placid, NY (June 16, 2023) – The Regional Office of Sustainable Tourism (ROOST) has released results of its recent sustainability survey, developed to assess the importance of social, economic and environmental initiatives undertaken within the Adirondack region to travelers. ROOST also shared the results of its annual leisure travel study, undertaken during the same time period, which uncovers visitor demographics and information about their travel expenditures while in the region.
Both surveys analyze non-business travel to Lake Placid, Essex and Hamilton counties, along with the adjacent communities of Tupper Lake and Saranac Lake. ROOST conducts research throughout the year to identify visitor preferences and industry trends, while also assessing the impact of its marketing initiatives over time.
Sustainability Survey
Results of the sustainability survey indicated that roughly half of the respondents traveled from within New York state, 21 percent from within the Northeast US and others from areas farther away. Approximately 80 percent of survey respondents traveled from within a day's drive of the region. 
Survey respondents were asked how important sustainability factors are when planning a trip. A substantial majority (86 percent) of this group feel that sustainability is at least a moderate consideration and 26 percent feel it is a "very important" consideration.
Key findings include:
More than one in four respondents state that sustainability is a "very important" consideration when making travel plans.
Over half of respondents indicate sustainability is an influential factor at least "often."
Travelers often seek out businesses and organizations that support other local businesses and communities.
ROOST's sustainability survey respondents believe that the Adirondack region is making significant efforts, especially considering the environmental aspect of sustainability. This finding is important, considering that 91 percent of respondents feel positively influenced by sustainability practices when making purchase decisions; more than half of respondents indicated that this is "often" a consideration.
Respondents were also asked about local sustainability practices they look for when planning a vacation. 20 percent indicated that restaurants and businesses that support local farms, suppliers and artisans impact their decision to frequent those establishments. Community involvement is also essential. Business' donations to charities and nonprofits, along with local ownership of businesses, positively impact travelers' choice of visitation.
Seventeen percent of respondents indicated that regional plans to care for, manage and limit negative impacts on the area's hiking trails also factored into their decision about visiting a region. Environmental emissions practices such as public transportation options and the ability to drive rather than fly to an area also influence their decision making.
According to Michelle Clement, director of marketing at ROOST, while sustainability has been a focus within ROOST for many years, this is the first year that a survey was conducted to gauge visitor perceptions. "Understanding the importance of sustainability practices to travelers, and how these practices impact their behavior, can help us continue to advance how we position the region. Considering that travelers look for evidence of sustainability initiatives when making travel decisions, investing in green initiatives is not only good for the environment and our overall quality of life, it is also good for business," she explained. "Sharing information about sustainable practices is another marketing opportunity we will continue to focus on in the years ahead."
2022 Leisure Travel Study
In conjunction with the sustainability study, ROOST has also released the results of its 2022 Leisure Travel Study. "We base marketing initiatives on data and industry trends to optimize the impact of our efforts," said Clement. "These two surveys provide important insights, allowing us to better understand leisure travelers, their interests and preferences." 
Key findings include:
Visitation from the Northeast states outside of New York remains consistent at 18 percent of respondents; visitation from outside the Northeast US increased slightly to 8 percent.
Canadian visitation is rebounding with 2 percent of respondents from Quebec and 2 percent from Ontario.
Increased expenditure levels were reported by 2022 visitors, compared to 2021.
Twenty-three percent of respondents who visited Essex County reported visiting Olympic sites as an attraction, a sizable jump from the 17 percent reporting such interest in 2021.
Results from the 2022 Leisure Travel Study saw a return to typical activities for visitors following two heavily impacted pandemic years. During the height of the pandemic, 80 percent of visitors came from within New York state, since out-of-state travel was restricted. During 2022, travel to the region from within New York returned to the pre-pandemic level (70 percent). Reported fall visitation within Essex County in September and October (29 percent) exceeded reported summer visitation in July/August (23 percent), for the second consecutive year.
Those who visit the region from July through October continue to cite outdoor activities as a significant reason for visiting. Hiking remains one of the most popular activities (79 percent) across all seasons. Of those, 71 percent were interested in day hikes, 31 percent were interested in leisure or hard surface hiking, along with 24 percent interested in family hiking. Hiking within the region's highest peaks or as part of a more challenging adventure experienced a surge in popularity from 12 percent in 2021 to 21 percent in 2022. Paddling was another important activity for approximately 35 percent of travelers, a slight increase from 2021. 
Other significant findings include that the majority of people (38 percent) continue to choose to stay in a hotel, motel or resort, as opposed to camping (12 percent), private rental or with family/friends. Total expenditure per trip in 2022 was approximately $1,697, with lodging, meals and shopping making up the majority of that amount. Lodging expenditure ($787) represents a 23 percent increase from 2021.
Hamilton County results echoed those of Essex County, with hiking and paddling as the most popular activities, the majority of visitors hailing from within New York and from the Northeast US, an increase in average expenditure, and a marked increase in fall visitation. Hamilton County welcomed a higher percentage of campers than Essex County.
The 2022 Sustainability Survey Analysis and the 2022 Leisure Travel Study can be found at RoostADK.com.
The Regional Office of Sustainable Tourism is the destination marketing and management organization for Essex and Hamilton Counties, which includes the Lake Placid region, along with the communities of Lake Placid, Tupper Lake and Saranac Lake, all located within the Adirondacks in New York state. 
###
Photos: https://media.roostadk.com/?c=2803&k=9c46d02b7d
Contact:
Jane Hooper, communications manager
Regional Office of Sustainable Tourism
518-621-3662  518-578-6328 (cell)
jane@roostadk.com