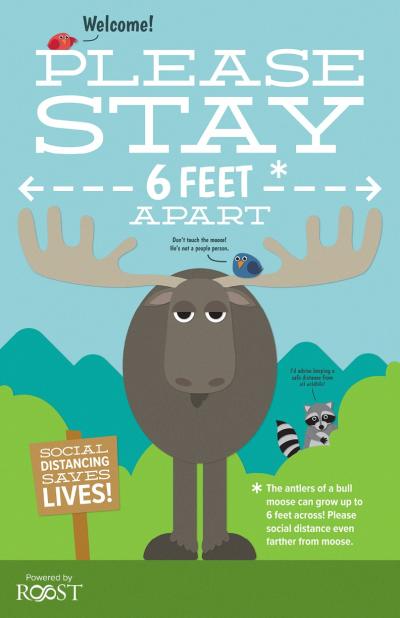 Lake Placid, N.Y.  -- The Regional Office of Sustainable Tourism (ROOST) has released a set of "Politely Adirondack" posters that encourage social distancing, hand washing, and mask wearing during the COVID-19 pandemic.
With Gov. Andrew Cuomo's announcement Wednesday that the North Country had met all the criteria necessary to begin the four phases of reopening, businesses in Phase I will be able to operate starting May 16, 2020. However, local, state, and national health officials are still encouraging everyone to maintain social distancing or wear a mask when that is not possible.
ROOST's in-house design team created a series of posters encouraging these measures with friendly messaging and cute Adirondack animals. These signs are part of a campaign to create an upbeat, visually pleasing and Adirondack-branded message. Politely Adirondack posters have each region's logo, and can be downloaded and printed from the ROOST website. ROOST will also be distributing the designs to its communities on larger posters and outdoor yard sale signs for higher traffic areas.
"As we start the first of the four phases, it is important we follow the guidelines set forth by the state, in order to proceed to the next steps. Following the guidelines will ensure everyone stays healthy as we start the region's economic recovery," ROOST CEO James McKenna said.
The posters are part of a toolkit that ROOST has developed for local businesses. In addition to the Politely Adirondack posters, the toolkit includes photos and videos from each region that can be shared on social media, and information on keeping social media channels fresh. The toolkit, images, videos, and posters can be found at  www.roostadk.com/toolkit. 
ROOST conducts tourism promotion for seven regions in the Adirondacks, including Essex and Hamilton counties, along with the Lake Champlain Region, Lake Placid, Saranac Lake, Tupper Lake, and the Adirondack Hub, which includes the towns of Minerva, North Hudson, Newcomb, and Schroon Lake.
 
###
 
For Further Information:
Contact ROOST Director of Marketing, Michelle Clement, at mclement@roostadk.com.