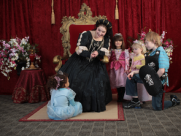 Rochester, N.Y.
- Sound the royal trumpets! The Queen of Play requests your presence at the Royal Ball at the
National Museum of Play
at The Strong on Saturday, March 2 from 11 a.m. to 4 p.m. and Sunday, March 3 from 1 to 4 p.m. Come dressed in your most regal attire, meet Her Majesty, and be whisked away to a royal court for a weekend of live music, pageantry, and courtly dancing. On Saturday only, get caught up in the magic of
Rochester Lyric Opera's
production of Vittorio Giannini's, "Beauty and the Beast," a one-act opera for the whole family at 11 a.m. and 1 and 3 p.m.
All weekend long:
Enjoy sprightly dance tunes and soaring melodies from Nonesuch Early Music Ensemble. Ensemble performers include Mitzie Collins on hammered dulcimer and percussion instruments; John Heyer on the hurdy-gurdy, hammered dulcimer, and recorder; and Roxanne Ziegler on Celtic harp and small percussion instruments.
Meet and receive autographs from illustrator Nancy Wiley (Little Red Riding Hood and Alice's Adventures in Wonderland) and author Douglas Whelan (Bladewielder Academy). Wiley is a Rochester-based and nationally recognized doll artist and painter; Whelan is a sophomore at Webster Thomas High School.
Try on real chainmail (and see how heavy it is!), enjoy a "feast" at the royal banquet table, and receive a bejeweled gift from The Fairy Godmother.
Create your own majestic attire and adornments, including crowns, scepters, and family crests.
Improve your hand-eye coordination with Nerf "archery" in Sherwood Forest or tend to the dragons and unicorns in the Folkmanis puppet corner.
Stop by Rapunzel's Hair Salon to have your hair braided.
All Royal Ball activities are included with general museum admission fees.
###
Contact
: Susan Trien, 585-410-6359,
strien@thestrong.org
Shane Rhinewald, 585-410-6365,
srhinewald@thestrong.org