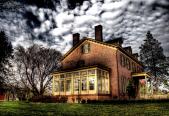 Terror lurks in Orange County, New York
Orange County, N.Y.
- Don't be fooled. This is not about running the Hambletonian Marathon and Good Time Trotters Relay in Goshen on October 20th. This is a WARNING. Run for your life! Orange County is HAUNTED. Terror lurks in every corner where ghosts, ghouls and goblins anxiously await the brave souls who dare to seek them out. Think you can handle a little horror? Then visit these spooky places for encounters with the ghastly creatures of the night.    Do you have the nerve to cross the "Devil's Field"? You'll have to muster up some courage if you want to brave
Pure Terror Scream Park
, named one of the scariest parks in America by Hauntworld.com. It's blood-curdling! Located at Museum Village in Monroe (with its own reputation for ghostly apparitions), the monsters inside the "The Crypt, Phobia, and House of Terror" will shock everyone, even the regular spirits. If you're ready for a little heart-stopping fun, find your way to this horror by November 2nd. Buy your tickets online so you don't chicken out at the site. Earn some bragging rights if you survive "one of the scariest places in America!" That's how the Discovery Channel described the
Forest of Fear
in Sterling Forest
.
If you want nightmares, go here. How much is your sanity worth? You just may lose it in "The Slaughterhouse." Make it out of there in one piece and "Blind Panic" will test what's left of your psyche. Even scarier, experience a buried coffin simulator on "The Last Ride." Unless you have nerves of steel, don't bother going; this experience is major league terror. You can risk it on Friday, Saturday and Sunday nights from October 4th through 27th.  Be sure to say good-bye to friends and family before your visit, you may not have another chance. Pumpkins, corn fields, farm animals and a country store selling farm fresh produce and gifts make Pierson Farm just outside of Middletown seem pretty safe, right? By day, perhaps. You may even want to take the little ones to play in the corn and hay mazes and kiddie attractions, but remember, only the bravest souls should approach this place when night falls and strange creatures haunt the barn. If you think it's safe to hide behind the corn stalks, think again! Navigating a corn maze in darkness when ghosts are on the prowl is a terrifying experience. Inevitably, you'll run smack into the cemetery where panic takes over.
Fright Nights
at this seventh generation farm happen on October 5, 12, 19, 25 and 26 from 7 to10 pm. Who's willing to participate in an infrared ghost investigation in a former funeral home? Shivers will run up and down your spine when you take the
Candlelit Ghost Tour
at Patchett House in Montgomery on October 26th from 7 to 9pm. Linda Zimmerman, author of "Back from the Dead," will be there delivering first-hand accounts of supernatural experiences. Space is limited, so if you're 13 or over and you want to risk having a paranormal experience, preregister to join the other souls brave enough to witness this scary one-night event. If fear doesn't have you running out before it's over, you'll be rewarded with a signed copy of Linda's book of 10 hair-raising ghost stories. There's a good chance you won't be able to sleep when you get home, ever! Rumor has it that even Cornwall has succumbed to evil spirits. Have you heard the story of
Corn House
? A hostage held in the basement of Thaddeus Corn's home was there while Thaddeus and his family were murdered. Mysteriously, investigators found the bodies of the dead Corn family, but the hostage was never found. Now the Corn family ghosts faithfully return every Halloween to seek revenge. Are you foolhardy enough to enter this house? Will they think you did it? Take your chance from 7 to 10pm on October 25 & 26 and from 6 to 9pm on October 31st. Some folks are gluttons for punishment. If you're one of them, head to
Lainway Corn Maze
in Westtown on October 20th and 27th. You'll come face-to-face with ghosts, zombies and evil scarecrows that haunt the 3 + acre corn maze from dusk to 10pm.  Can your heart handle the pressure? Feeling trapped inside the maze with these ghoulies is not for the feint of heart. Don't be disappointed if you don't have the courage, the spectacular maze is also open when the monsters are gone from 11 am to 6pm on weekends through October 26th.  Don't say you weren't warned. Orange County Tourism won't take the blame if you get scared out of your wits, but we will help you find a comfortable, safe place to stay, as well as other fun attractions and events at
http://www.orangetourism.org/
. For a free copy of the Orange County Travel Guide, email
tourism@orangecountygov.com,
or call 800-762-8687. Orange County Tourism is headquarters for tourism in the county and is part of the
I LOVE NEW YORK
program.
RESOURCES
###
Contact
: Mary Ann McCarthy (845) 615-3860
mmccarthy@orangecountygov.com