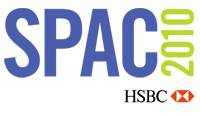 Popular Tradition is Informal Opening to the Freihofer's Saratoga Jazz Festival,
June 26 and 27
Saratoga Springs, N.Y.
- On Saturday, June 26 at approximately 10:00 a.m., the "Running of the Bulls" - a popular jazz festival tradition - will take place at SPAC's Route 50 entrance gate.  The event earned its name from longtime festival-goers who begin lining up outside SPAC's gates as early as 7:00 a.m. in order to be able to race through the gates to claim their favorite spot on SPAC's lawn. The Festival's lawn guests often set up their area with tents, umbrellas and tables where they enjoy jazz performances while picnicking and relaxing.    The Freihofer's Saratoga Jazz Festival, now in its 33rd year, will feature more than 20 performances by renowned and emerging artists on the Amphitheatre and Gazebo stages including Gladys Knight, Al Jarreau & the George Duke Trio, Taj Mahal, Al DiMeola, Ann Hampton Callaway and Stefon Harris & Blackout. Performances begin at noon each day. Tickets are still available at www.spac.org, by calling 518-584-9330 or at the SPAC Box Office. Photographers and members of the media are encouraged to attend. Advance notification is appreciated. Note: Any media wishing to cover the "running of the bulls" should check in at the Charlie Gate near the Hall of Springs Box Office between 9:30 - 9:40  a.m. 
###