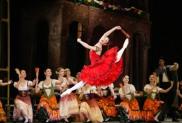 One of only three US locations
Bolshoi's glittering production of "Don Quixote" showcased July 30-Aug. 1
Saratoga Springs, N.Y. - Russia's legendary Bolshoi Ballet, the largest ballet company in the world and one of the most prestigious, will perform at Saratoga Performing Arts Center (SPAC) as one of only three U.S. locations from July 30 to August 1 during the summer of 2014, announced President and Executive Director Marcia J. White at the annual October meeting of the Board of Directors. The illustrious Moscow-based company of more than 200 dancers, a revered symbol of Russian culture, is famous for elaborately staged productions of classics and a bold, dramatic style. The company's SPAC engagement will feature four performances of its signature production of Don Quixote.
"The grandeur, history and artistry of the legendary Bolshoi Ballet have affirmed its status as one of the world's great ballet companies," said Ms. White. "In 2014, SPAC's stage will mark a milestone when it becomes the showcase for Russia's Bolshoi Ballet and one of its most thrilling and elaborate productions, the full-length story ballet Don Quixote." "We are immensely proud and excited to offer the public this rare opportunity," said White. "The Bolshoi has influenced and, in many ways, defined the art of classical ballet for more than two centuries. The company's presence at SPAC will be an epic event for the Capital Region community." Founded in 1776, the Bolshoi Ballet is among the world's oldest and most renowned ballet companies.  Known for bold choreography, outstanding ensemble skills and lavish scenery and costumes, the Bolshoi is characterized by power, strong technique, athleticism and dramatic intensity. The company's corps de ballet is legendary, praised as "an unfailing marvel" (
Financial Times
, London) for its flawless synchronization and beauty. The company will also be accompanied by its 80-piece orchestra. "We are honored to present the iconic Bolshoi Ballet on the heels of an extraordinary artistic season that will welcome back our beloved resident company, the New York City Ballet.  The wide breadth of programming will also include engagements by contemporary group, Martha Graham Dance Company, performing at SPAC for the first time since 2008, and MOMIX, following its popular SPAC debut last season," said Ms. White.  "SPAC's audiences welcomed the innovative performances displayed on our 2013 summer stage; next season we continue that trend with the best and brightest stars from the classical and contemporary worlds."
SPAC's 2014 Season
Martha Graham Dance Company June 12th
Freihofer's Saratoga Jazz Festival June 28- 29
New York City Ballet July 8-12
New York City Ballet Gala July 12
Bolshoi Ballet July 30- August 1
The Philadelphia Orchestra August 6- 23
Chamber Music Festival August 11- 26
Saratoga Wine & Food Festival September 5-7
###