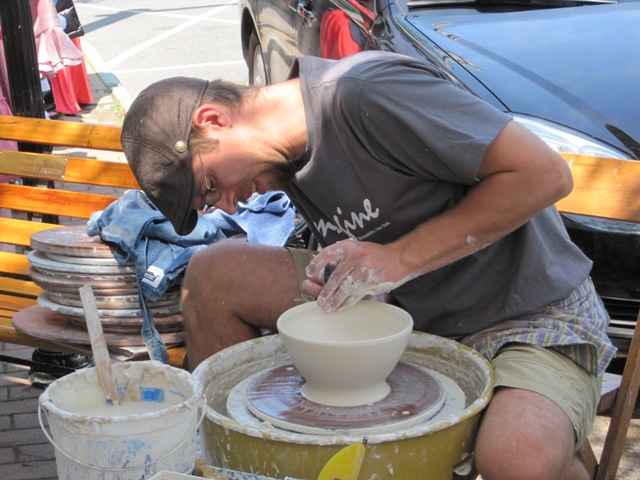 New Duck Dash raises money for charity
Where can you find sidewalk sales, art demos, musical entertainment....and a strolling duck?
Skaneateles, N.Y.
- The Curbstone Festival returns July 19-21 along Genesee, Jordan and Fennell streets in Skaneateles. The hours for the event, featuring more than 30 merchants, are 9 a.m. to 8 p.m. Thursday and Friday and 9 a.m. to 5 p.m. Saturday. The event is organized by the Skaneateles Area Chamber of Commerce. Among the sales and specials sure to delight shoppers:
Imagine will offer pottery demonstrations at 10 a.m., 2 p.m. and 3 p.m. each day, along with 50 percent off a wide array of jewelry, glass, pottery and wood, and many in-store specials.
The Sherwood Inn will host free tastings of wines from Owera Vineyards from 11 a.m. to 2 p.m. Thursday and Friday.
Skaneateles Artisans will offer demos from 10 a.m. to 5 p.m. Thursday and Saturday. Linda Bishop will demonstrate freeform weaving Thursday; Teresa Vitale will demonstrate abstract painting techniques Saturday.
Fleur-de-lis Florist will present an inventory clearance, with 75 percent off select ceramic containers, 50 percent off silk flower arrangements, and ribbons galore from 10 cents to $3.
Rhubarb Kitchen Shop will offer 50 percent off gadgets, acrylic ware and cookware items.
Creekside Books & Coffee will feature clearance items marked down by 50 to 70 percent, drink samples, and a complimentary 16-ounce drink of your choice with $30 book purchase from the café.
Men's and women's clothing, shoes, handbags, home accessories, pet accessories and stationery goods will also be on sale. Merchants new to the village that will be participating for the first time are Isadora (58 E. Genesee St.), Lost & Fondue (33 Jordan St.), Endurance Monster (11 Fennell St.) and Hobby House Toys (7 Jordan St.). In addition, HABA USA will sell toys on the M&T Bank lawn. Also new to this year's Curbstone Festival is the Duck Dash, a fund-raiser that will be held from 2 to 5 p.m. Saturday on Skaneateles Creek, behind the Fennell Street locations of Kinney Drugs and CVS. The carnival-like event will feature food, games, and music by Tumbleweed Jones. Grand prize is $1,000. A Skaneateles YMCA membership will be awarded for the second-place duck; $500 for the third-place duck; Finger Lakes Scuba open water dive instruction and gear for the fourth-place duck; $250 for the fifth- and sixth-place ducks; a Mid-Lakes Navigation dinner cruise for the seventh-place duck; and $100 for the eighth-, ninth-, 10th- and last-place ducks. Tickets are $5 and are on sale at the Skaneateles Area Chamber of Commerce, Hairtique, the Skaneateles Historical Society and the Skaneateles YMCA & Community Center (or can be bought from the strolling duck). The event is sponsored by the Bryce Family Foundation and Dave Pirro Ford. Proceeds will benefit Laker Limo, the Skaneateles YMCA & Community Center and the Skaneateles Area Chamber of Commerce Foundation. As in years past, the Jackman Twins will perform magic, juggling and balloon art each day of the festival from noon to 4 p.m. Musical entertainment will be provided throughout the weekend: Tom Barnes will perform from noon to 3 p.m. Thursday outside the Skaneateles Library; the Skaneateles Community Band, from 7:30 to 8:30 p.m. Friday at the Gazebo; and the Finger Lakes Wind Quintet, from 1 to 3 p.m. Saturday on the porch of the Masonic Temple. "The Curbstone Festival is a longstanding tradition in the village and an experience not to be missed," says Susan Dove, executive director of the Skaneateles Area Chamber of Commerce. "It's so popular that people start asking about the date in January and plan their vacations around it. "While the sidewalk sales are the draw, the Curbstone Festival is so much more," she says. "We have something for everyone-visitors can take a Mid-Lakes Navigation cruise, try the village's fine restaurants, and stay overnight at one of our historic inns or B&Bs." Parking is available at metered spots along the street or in the municipal lot (accessed through Genesee or State streets), where two-hour parking is free and all-day parking is $2. Free parking is also available at the old firehouse on Fennell Street and on various side streets. For more information on the Curbstone Festival and to sign up for sales specials throughout the year, go to
http://www.skaneateles.com/
.
###
Contact
: Susan Dove Skaneateles Area Chamber of Commerce 315-685-0552
sdove@skaneateles.com
http://www.skaneateles.com/