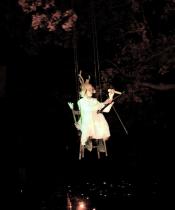 New Paltz, NY (August 19, 2009) -
The Samuel Dorsky Museum of Art at the State University of New York at New Paltz is hosting gallery talks and a performance by participants in the 2009 Hudson Valley Artists show, "Ecotones and Transition Zones," on Thursday, Aug. 20. The talks, which will take place from 5:30 to 6:45 p.m. in the museum's Alice and Horace Chandler Gallery and the North Gallery, feature Robert Capozzi, Lorrie Fredette, Dylan McManus, Laura Moriarty and Jill Parisi, who collaborated on a piece in the show; as well as fellow "Ecotones and Transition Zones" artists Dana Duke, Susan Miller, Itty Neuhaus and J. Gilbert Plantinga. At 7 p.m., there will be an interactive tree serenade performance with artist Ryder Cooley. Viewers are encouraged to participate by bringing musical instruments. "Ecotones and Transition Zones" is the museum's 2009 installment of its annual Hudson Valley Artists series, which highlights the works of regional artists. The exhibition opened in June and is on display through Sept. 6. All events are free and open to the public. For more information about the exhibition, visit
www.newpaltz.edu/museum/exhibitions/past.html
. The Samuel Dorsky Museum of Art - with six galleries, offices and research facilities - has worked to amplify the college's academic programs and served as a cultural resource to the region since 2001. Suggested admission to The Dorsky Museum is $5. For event details, reservations, accessibility, or directions, visit www.newpaltz.edu/museum or call (845) 257-3844.
###
Contact
: Eric Gullickson - Director, Media Relations, SUNY New Paltz (845) 257-3245 or
gullicke@newpaltz.edu
Note to editors
: SDMA Curator, Brian Wallace is available for interviews, call 845-257-3245.