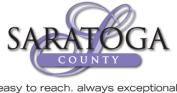 Saratoga Springs, N.Y.
- Saratoga County, New York offers a wide range of cultural events and festivals in 2011, including ballet, orchestra, opera and jazz performances. SaratogaArtsFest, in its fifth year, showcases nationally known artists, as well as emerging and established local artists, through dance, music, theater, fine art, film and writing.  This four-day festival is highlighted by over 50 events at various venues throughout Saratoga Springs from Friday, June 9 through Sunday, June 12.  New festival features for 2011 include, a sculpture created with salvaged metal from 9/11 World Trade Center attack, expanded film screenings, more hands-on arts for kids, and artists whose works were influenced by their personal Saratoga experiences.  The talents of Dave Brubeck with 'Triple Play,' Noel Paul Stookey (of Peter, Paul and Mary), Lucy Walker, and performances by the New York City Ballet, Opera Saratoga, and Home Made Theater are just a sampling of the overall schedule.  For complete event information or to purchase an ARTSPASS, which has year-round benefits at local art organizations, go online to www.saratogaartsfest.org.  The 34th Annual Freihofer's Jazz Festival will take place at the Saratoga Performing Arts Center grounds Saturday, June 25 and Sunday, June 26.  The 2011 version features more than 20 performers, including debuts by acclaimed artists, the return of festival favorites and appearances by up-and-coming jazz sensations.  Some of this year's notables are Michael McDonald, Jack DeJohnette, Dee Dee Bridgewater, Elaine Elias and so many more.  For more information and the full schedule of performances, visit www.spac.org.  The Saratoga Performing Arts Center (SPAC) is also home to a number of concerts and classical performances.  The 45th summer residency in Saratoga for the New York City Ballet is July 5 through July 16, with the return of "The Magic Flute," significant dance works, tribute pieces and Saratoga debuts.  SPAC will host The Philadelphia Orchestra July 27 through August 13, highlighted by the debut of the award-winning actor and Saratoga Springs native, David Hyde Pierce narrating "A Young Person's Guide to the Orchestra," as well as acclaimed soloists Yo-Yo Ma, Sarah Chang, Emanuel Ax and more.  For the first time ever, SPAC will host a cabaret style program in the Spa Little Theater, featuring popular entertainers that have performed in notable venues from August 20 through August 25.  SPAC is also home to Modern Dance on June 9 and August 16, the Saratoga Chamber Music Festival from July 26 through August 14, and several major pop and rock music concerts.  For more information, go online to www.spac.org. Opera at Saratoga, formerly known as Lake George Opera, is celebrating their 50th season in 2011.  They will present two works this summer, plus a 50th Anniversary Concert July 8th, all at the Spa Little Theater, located in Saratoga Spa State Park.  Die Fledermaus will be performed on June 29 and July 2, 5 and 10 and Cosi Fan Tutte will be performed on June 30, July 3, 6 and 9.  For more details, visit www.operasaratoga.org. The Saratoga Arts Council/Arts Center has been promoting the arts and cultural diversity for over two decades.  The center is located in Saratoga Springs and offer workshops and classes, an art gallery, showings of independent films and special events.  For more information, go online to www.saratoga-arts.org. The Arthur Zankel Music Center at Skidmore College is a 54,000 square foot, state-of-the-art performing arts venue.  It is home to the college's music department, as well as host to numerous concerts, lectures and cultural events.  Visit the center's web site for full calendar of their summer events at http://cms.skidmore.edu/zankel/index.cfm. Caffè Lena is noted as being the oldest continuously running coffeehouse in America and offers theatrical performances, music concerts, poetry, open mic nights and workshops.  Go online to www.caffelena.org for more information and a schedule of events. The Beekman Street Art District is a located a few blocks off Broadway and encompasses an eclectic group of art galleries, exhibits, specialty art stores, as well as eateries.  Visitors can find a variety of handmade artwork and goods made by regional painters, sculptors and designers.  The Ballston Spa Film Festival will be held August 5 and 6 in Ballston Spa.  It features short films from around the world during the two day event.  More information is available at www.bspafilm.com.   Several arts related and art events vacation packages are available online at www.saratoga.org.  For more information or to plan a trip, go to www.saratoga.org or request a free travel guide by calling 1-800-526-8970. 
About Saratoga, New York
Saratoga's attractions and spectacular scenery have made it a premier Northeast destination for centuries.  Located approximately three hours from New York, Montreal and Boston, Saratoga features world-class horse racing, the performing arts, gaming, polo, award-winning golf courses, museums - including three National museums, a National Battlefield, Victorian architecture, great shopping, plentiful outdoor activities and so much more. Visitor information is available online at www.saratoga.org or by calling 1-800-526-8970.  The Saratoga County Chamber of Commerce is the official Tourism Promotion Agency of Saratoga County, New York. 
###
Contact:
Greg Dixon Saratoga County Chamber of Commerce 518-584-3255
gdixon@saratoga.org
http://www.saratoga.org/