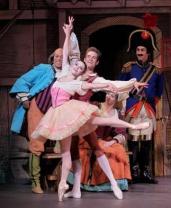 Saratoga Springs, N.Y. (Feb. 24) -
Globally renowned artists, classical and contemporary programming, multi-media performances and exciting Pre-Shows will highlight
Saratoga Performing Arts Center's
2011 Classical Season presented by HSBC Bank USA, N.A. (HSBC Bank), announced Marcia J. White, President & Executive Director. Programs for SPAC's summer resident companies, New York City Ballet, July 5 - 16, and The Philadelphia Orchestra July 27 - August 13, as well as details of the modern dance program and cabaret series,
Live from the Algonquin at SPAC
, were released today. Pre-season online ticket sales for all programs begin today for SPAC members; online sales to the public begin March 24. Tickets and information are available at
http://www.spac.org/
. "Our goal in 2011 is to continue connecting new and longtime audiences to the exhilaration of the live performing arts and the uniqueness of the SPAC experience. The combination of brilliant performances, a gorgeous park setting, fabulous dining options and fun, free Pre-Shows make each visit to SPAC an unforgettable experience," said White. "Yet, our cornerstone - our
core commitment
-- is stellar, world-class programming. It is with great pride and excitement that we announce a new season that upholds this tradition with a program featuring internationally renowned artists, classical and contemporary masterpieces and innovative programs that pair technology and tradition."  "Partnering with us to make these extraordinary opportunities possible is HSBC Bank, the title sponsor of SPAC's Classical Season for the second consecutive year. We are grateful for their investment in SPAC and for their unique vision which recognizes that a thriving arts and cultural sector offers a rich quality of life and educational, social and economic benefits for citizens throughout the Northeast. We look forward to presenting with HSBC Bank, a spectacular Classical Season which achieves all of these important goals," said White. For the second year,
HSBC Bank USA, N.A.
is title sponsor of the Classical Season. HSBC -- "the world's local bank" - and SPAC share a commitment to nurturing the thriving artist environment in upstate New York, and to offering programming excellence that draws performers and audiences from local communities and around the world. "New York City Ballet brings artistic excellence to the forefront with a gorgeous program of masterpieces interwoven with striking contemporary works and new choreography. We are particularly pleased to present the major revival of Peter Martins'
The Magic Flute
, after an absence of nearly three decades.  With a beautiful score, wonderful costumes and elaborate scenery, this production is perfect for children and families and is set to be one of the summer's biggest draws," said White. "We are also excited to offer Gala audiences the exclusive opportunity to experience Susan Stroman's much-talked-about new ballet
For the Love of Duke
set to the music of Duke Ellington and Benjamin Millepied's
Plainspoken
with a commissioned score by award winning composer David Lang. Peter Martins' glamorous
Thou Swell
, performed with an on-stage jazz trio and vocalists, will add more glitter to the Gatsby Gala evening," said White. "We will also welcome City Ballet's new
See the Music
program, which has quickly become a very popular feature with New York audiences. These brief presentations by NYCB Music Director Fayçal Karoui offer fascinating insights on the evening's music and program."  "The Philadelphia Orchestra's Saratoga season will feature many 'firsts' including award winning actor and Saratoga Springs native David Hyde Pierce joining us to narrate the orchestra's performance of Britten's classic,
A Young Person's Guide to the Orchestra,
an evening with Grammy winning saxophonist Branford Marsalis, and a full screening of classic film
Casablanca
with a live orchestral performance of the film's score," said White. "These magnificent programs will come to life under the baton of a series of distinguished guest conductors including famed Maestra Marin Alsop, our Conductor Emeritus Charles Dutoit, pops conductor Stephen Reineke, the Orchestra's own Rossen Milanov, as well as several making their first appearance on SPAC's podium including Giancarlo Guerrero, Stéphane Denève, Bramwell Tovey and Constantine Kitsopoulos." "The roster of superstar soloists joining us during orchestra season includes Yo-Yo Ma, Sarah Chang, Gil Shaham and Emanuel Ax as well as two acclaimed artists making their first appearance at SPAC, pianist Gabriela Montero and violinist James Ehnes," she added.     "New in 2011, pop culture comes to life as we add 'Glee Nights' to our schedule of popular Pre-Shows  with Columbia University's a cappella group
Nonsequitur
and the world renowned Princeton
Tigertones
serenading ballet and orchestra audiences on two exciting evenings. We'll also add many new 'extras' to favorite nights such as 'Date Night' which will offer generous tastings of imported wines, cheeses and meats, courtesy of the Italian Trade Commission and more free edibles and entertainment for Family Nights, Girls Night Out, American Girl Night and more." "The diversity of programming that contributes to the vibrancy of SPAC's season will grow again in 2011 as we introduce a brand new cabaret showcase,
Live from the Algonquin at SPAC
. Famed entertainer Steve Ross will dazzle audiences with a show the
London Times
called the 'smoothest cabaret act in the world.'" said White. "For art with a contemporary edge, we'll present programs by the Lar Lubovitch and Trisha Brown dance companies, two of the preeminent ensembles in modern dance." "These events, as well as the recently announced programs for the Freihofer's Saratoga Jazz Festival and Chamber Music Festival, add up to a dynamic, diverse program that literally offers something for everyone. It's a program that sets the stage for an incredible summer," said White. 
2011 Highlights
New York City Ballet, July 5 - 16
¨       A major revival of Peter Martins' 
THE MAGIC FLUTE
, will highlight the season
.
Returning to the NYCB repertory last fall after an absence of nearly thirty years, this new version features elaborate costumes and new scenery designed by Tony Award-winning designer David Mitchell. The work, which features a score by Riccardo Drigo, tells the story of a young girl who loves a poor but proud boy, yet is forced by her parents to wed a rich older man. This is an ideal work for children, families and fans of theater.   ¨      The Ballet Gala will feature the Saratoga premiere and the season's sole performance of acclaimed Broadway director and choreographer Susan Stroman's
FOR THE LOVE OF DUKE.
Danced with a full jazz band on stage, this charming two-part love story
is set to music by the legendary jazz musician
Duke Ellington. Also on the Gala program is Peter Martins' elegant
THOU SWELL
, which features music by Richard Rodgers, Art Deco scenery, on-stage jazz trio and vocalists.
Thou Swell
was last performed at SPAC in 2003. Gala audiences will also enjoy the Saratoga premiere of Benjamin Millepied's new ballet,
PLAINSPOKEN
with a commissioned score by Pulitzer Prize winning composer David Lang.   ¨      Widely considered one of the most important dance works of the twentieth century, Balanchine's 1957 masterpiece
AGON
which has been described as one of the defining moments of mid-century ballet, is among the highlights of the season.
Agon
,
APOLLO
and
SQUARE DANCE
, all part of the season, are among Balanchine's "black and white" ballets - works which showcase a more minimalist aesthetic,  emphasizing movement rather than storytelling. ¨      Jerome Robbins' ballets on the schedule include
I'M OLD FASHIONED,
his tribute to Fred Astaire, that features NYCB dancers performing in concert with a film sequence from the movie,
You Were Never Lovelier
starring Fred Astaire and Rita Hayworth, and the charming
CIRCUS POLKA,
which takes place in a circus ring and features a ringmaster and 48 young dancers. ¨      Regarded by many as a breakthrough contemporary work, Christopher Wheeldon's
POLYPHONIA with a score by Györy Ligeti was lauded by one reviewer as "...Wheeldon at his
most original and...unstintingly inventive." Also in the contemporary genre is Peter Martins'
FEARFUL SYMMETRIES
choreographed to the music of John Adams.  A large, complex ballet bathed in dramatic and ever-changing hues of red and blue created by Mark Stanley, the movement matches the racing pulse of Adams' score.  ¨       Making its SPAC debut will be City Ballet's highly praised new program,
SEE THE MUSIC
,
offering an inside look at NYCB's unparalleled musical repertory and 62-piece orchestra
.
On select evenings, NYCB Music Director Fayçal Karoui will introduce the evening's performance with a brief discussion, followed by the Orchestra performing an excerpt from one of the ballet scores on the program.
The Philadelphia Orchestra, July 27 - August 13
¨       Opening Night of the Orchestra's 2011 Season will be led by Maestra
MARIN ALSOP,
Music Director of the Baltimore Symphony Orchestra and one of the world's leading conductors. Ms. Alsop will conduct a masterful program that includes Beethoven's dramatic
Leonore
Overture No. 3, Tchaikovsky's brilliant Symphony No. 6 ("Pathétique")and Bruch's Violin Concerto No. 1 with violin virtuoso
SARAH CHANG
. The Bruch Concerto is a featured work on Ms. Chang's most recent critically acclaimed recording. ¨      Special guests appearing during the season include Emmy® and Tony® Award winning actor
DAVID HYDE PIERCE
who will bring his distinctive voice to the narration of Britten's classic
Young Person's Guide to the Orchestra
. A Saratoga Springs native who often attended performances of The Philadelphia Orchestra and New York City Ballet with his family during his childhood, Mr. Hyde Pierce's return to SPAC is a special highlight of the season. ¨      Award winning producer John Goberman, best known as the creator of the
Live from Lincoln Center
series of television specials, will bring the silver screen to SPAC's stage for a first-ever full-length movie screening of
CASABLANCA
with a live soundtrack performed by the Orchestra and guest conductor Constantine Kitsopoulos. ¨      Three-time Grammy®-winning saxophone superstar
BRANFORD MARSALIS
joins The Philadelphia Orchestra for a unique evening of classical-meets-jazz. Marsalis, alongside the Orchestra, will perform John Williams'
Escapades
for saxophone and orchestra, originally written for the hit film
Catch Me If You Can
and
Scaramouche
by Darius Milhaud. ¨      A series of accomplished guest conductors will take the podium during the orchestra program including
GIANCARLO GUERRERO
, Music Director of the Nashville Symphony. A fervent advocate of new music and contemporary composers, Mr. Guerrero and the Nashville Symphony recently won a Grammy® Award in the category of Best Orchestral Performance for their recording of Michael Daugherty's
Metropolis.
  ¨     SPAC will also welcome for the first time, French-born
STÉPHANE DENÈVE
, Chief Conductor Designate of the Stuttgart Radio Symphony Orchestra (SWR) and current Music Director of the Royal Scottish National Orchestra;
BRAMWELL TOVEY
, Music Director of the Vancouver Symphony and Principal Guest Conductor for the Los Angeles Philharmonic and
CONSTANTINE KITSOPOULOS,
noted guest conductor for opera, symphony and musical theater performances around the globe and Music Director of the Queens Symphony Orchestra. ¨       An exceptional lineup of classical soloists will perform during the season including incomparable cellist
YO-YO MA
, who will perform Shostakovich's compelling Cello Concerto No. 1; globally acclaimed violinist
GIL SHAHAM
performing Tchaikovsky's brilliant Violin Concerto; and superstar pianist
EMANUEL AX
in Mozart's elegant Piano Concerto No. 22. ¨       Making his first appearance on SPAC's stage is violinist
JAMES EHNES,
who has been hailed as "the Jascha Heifetz of our day" (
Globe and Mail
). He has performed in over 30 countries on five continents, and received numerous international awards and prizes, including a Grammy, a
Gramophone
, and six Juno Awards. Also making her SPAC debut will be Venezuelan pianist
GABRIELA MONTERO
, known worldwide for her brilliant, technical mastery of classical repertoire, as well as for her trademark improvisational abilities. Montero performed John Williams'
Air and Simple Gifts
with Yo-Yo Ma, Itzhak Perlman and Anthony McGill at the inauguration of President Obama. ¨       The Orchestra season will feature diverse repertoire spanning the classical, Romantic, 20
th
century and modern periods, including
TCHAIKOVSKY'S SYMPHONY NO. 6 ("PATHÉTIQUE"),
his majestic, final
symphony
, and a work of which he said, "without exaggeration, I have put my whole soul into this work";
BEETHOVEN'S SYMPHONY NO. 3,
the groundbreaking
"EROICA,
" which marked a turning point in symphonic writing with its extraordinary length and complexity;
STRAVINSKY'S
SONG OF THE NIGHTINGALE
, based on a Hans Christian Andersen fairy tale and later turned into a ballet by Sergei Diaghilev, and the Suite from Prokofiev's comic opera,
THE LOVE FOR THREE ORANGES.
  ¨      
CIRQUE DE LA SYMPHONIE,
one of the most popular programs of last season returns for TWO performances this year, one evening conducted by Stéphane Denève and the other by Rossen Milanov. Some of the most accomplished cirque artists in the world will perform astounding acrobatics and aerial feats uniquely choreographed to classical masterpieces performed by the Orchestra.
Modern Dance at SPAC
Lar Lubovitch Dance Company June 9
Trisha Brown Dance Company Aug. 16
In a continuing commitment to presenting a diversity of world-class dance, SPAC's season will feature programs by two preeminent modern dance companies whose distinctive techniques and works have shaped the evolution of the art form. Described as a "national treasure" by 
Variety
, the
LAR LUBOVITCH DANCE COMPANY
was founded in 1968 by choreographer Lar Lubovitch.  Hailed as "one of the ten best choreographers in the world" by 
The New York Times
, Lubovitch creates dances that are renowned for their musicality, rhapsodic style, and sophisticated formal structures.  Elizabeth Zimmer from
The Village Voice
explains that Lubovitch "[understands] profoundly the irreducible essence of dance: bodies propelled through designs in space and time." The company's June 9 program will include three works, including the jazz-influenced
Coltrane's Favorite Things
,
Legend of Ten
, with a score by Brahms; and Lubovitch's signature piece,
North Star
. This program will be the premier opening night performance of Saratoga ArtsFest. Also part of the season will be an August 16 program by the
TRISHA BROWN DANCE COMPANY
, a nine member ensemble named for its legendary artistic director who founded it four decades ago. Hailed as "the innovative high priestess of postmodern dance" by 
The New York Times
, Trisha Brown began at the avante garde Judson Dance Theater where she pushed the limits of accepted dance movement.  With the formation of her own company in 1970, Brown explored alternative performance spaces of Soho, staging performances on rooftops and walls, investigating the relationship between dance movement and gravity, and collaborated with renowned artists such as Robert Rauschenberg and Laurie Anderson. Celebrating 40 years of presenting abstract dance that is inventive, intellectual and cutting edge, the Trisha Brown Dance Company will present three works: the Baroque-influenced
L'Amour au theater
;
Glacial Decoy
, a masterpiece of exits and entrances; and
one of the companies most-requested pieces,
Foray Forêt
.
Live from the Algonquin at SPAC, August 20 - 25
International cabaret and concert performer
STEVE ROSS
, dubbed the "Crown Prince of Cabaret" by the
New York Times
, will bring the unique blend of music, comedy and charm that regularly delights audiences at New York's famed Algonquin Hotel, to the Little Theatre stage in August. Accompanied by Brian Cassier on bass, Ross will present programs that include a salute to Fred Astaire,
"Puttin' on the Ritz;" "Ridin' High"
which recalls the brilliant Cole Porter and
"Rhythm and Romance,"
Ross' Oak Room Triumph.
THE PRE-SHOW
6-8 PM, when the gates open
Among the most popular features of the SPAC experience is "The Pre-Show" that takes place before most evenings of the New York City Ballet and The Philadelphia Orchestra. In 2011, SPAC will add
"GLEE NIGHTS"
to the schedule of Pre-Shows for the ballet. Inspired by the phenomenal success of the television series, these Pre-Shows will feature renowned Ivy League a cappella groups, the famous
Princeton Tigertones
(7/7) and
Columbia University's Nonsequitur
(7/16). Also new in 2011 will be a greatly enhanced Thursday Night lineup known as The Sage Colleges Date Night Series which will feature generous wine tastings, gourmet cheese and meat selections sponsored by the Italian Trade Commission and classic photo booths. Other favorite pre-show events returning for the 2011 Season include Jr. Ballerina Night, CDPHP Family Night Series, Children's Workshops presented by Albany Medical Center, Emma Willard American Girl Night, Girls Night Out presented by the Times Union, Celebration of an Artist and Finale Night. Dates and details of these events available at
http://www.spac.org/
The Pre-Show is free and open to all ticketholders for the evening's ballet or orchestra performance. 
Sponsors
HSBC Bank USA, N.A. (HSBC Bank) is the Title Sponsor of SPAC's 2011 Classical Season.
Albany Medical Center, Amtrak, BST Advisory Network, CDPHP, Citizens Bank, CSEA, DePaula Chevrolet, The Desmond, Emma Willard School, Fenimore Asset Management & FAM Funds, Freihofer's, Gideon Putnam Resort and Spa, Grana Padano, Italian Trade Commission, Key Private Bank, Mionetto, M&T Bank, Nigro Companies, Oberlander Group, PEF MBP, NASDAQ/PHLX, Price Chopper, Quad/Graphics, The Sage Colleges, Saratoga Eagle, The Saratoga Hilton, Saratoga Hospital, Siena College, Skidmore College, SUNY Adirondack, Stuyvesant Plaza, Times Union, Tri-City Rentals, Trustco Bank, Union College, WAMC, WMHT, The Bender Family Foundation, The H. Schaffer Foundation and The Philly Dake Foundation