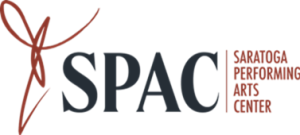 SPAC expands its season in 2023 to include a year-round lineup of live theater, jazz, folk, global and classical music in the Spa Little Theatre 
New Board Members Announced
Saratoga Springs, NY (May 18, 2023) – At its Annual Meeting on May 18, 2023, leadership and staff of the Saratoga Performing Arts Center (SPAC) reflected upon the successful 2022 season and considered the trajectory of the institution's collective efforts to serve art, artists, and the community of Saratoga Springs and the Capital Region.
 
"Transformation has changed and informed the very way we see the world and our place in it," said Elizabeth Sobol, president & CEO of Saratoga Performing Arts Center at the Annual Meeting. "No longer just an amphitheater, we see SPAC as the perfect confluence of human-made and natural beauty.  We see SPAC as a refuge, a place of healing, a place where all people are welcome, and all cultures are celebrated.   In our hearts, we understand our mission – to connect people to people - and to our planet.  And we undertake this important work with recognition of the profound importance of beauty and art in the cultivation of compassion and the creation of a just world." 
 
Year-Round Programming
This transformation is evident in programming initiatives at SPAC, described at the meeting by Chris Shiley, Vice President of Artistic Planning. In addition to sustaining Summer residencies with flagship companies New York City Ballet, The Philadelphia Orchestra and Chamber Music Society of Lincoln Center for their full productions and residencies and hosting the 46th Freihofer's Saratoga Jazz Festival, "the depth and scope of SPAC programming has exploded," said Sobol." "SPAC continues to honor its unique history and cultural roots, while simultaneously finding new and innovative ways to broaden our artistic scope and connect our community," said Shiley. "The 2023 summer season will span three months, with 28 performances, 24 debuts and 11 premieres, continuing our commitment to evolving and expanding our programming. Anchored by our theme 'EARTH', we will pay homage to our unique position in the incomparably beautiful Spa State Park, as we explore, through the arts, the connections between people and planet."
 
In addition to offerings from resident companies, the season includes LiteraryArts@SPAC, presenting insightful conversations with renowned authors, thinkers, and poets; CulinaryArts@SPAC, offering culinary experiences with an emphasis on sustainability, community, and socially conscious cultivation and consumption; and VisualArts@SPAC, with works of art coming alive in various locations throughout the SPAC campus and via collaborations in the Capital Region with community and cultural partners.  
 
Finally, Shiley announced dates for SPAC residencies in 2024: The New York City Ballet will return to SPAC July 9-13, 2024 and The Philadelphia Orchestra residency will take place July 31-August 17. Dates for Chamber Music Society of Lincoln Center and Freihofer's Saratoga Jazz Fest will be announced at a later date.
 
Educational Programming & Community Outreach: Recent years have also seen a significant transformation in SPAC's educational programming.  Led by Dennis Moench, Vice President of Education, the SPAC Education department's mission is to guide all students towards self-empowerment through artistic discovery and arts education in a welcoming and joyful environment.
SPAC's educational programming was able to return to is pre-pandemic records in the past year, reaching an estimated 50,000 students annually throughout the Capital Region. In addition, the number of classes provided annually by SPAC grew from 400 to more than 1,500 with an invigorated return to in-school programming such as the fully immersive SPAC Dance Residency and the addition of the SPAC School of the Arts where artists of all ages participate in weekly enrichment classes with highly qualified teaching artists.
SPAC's season will kick-off on June 4 with its sixth annual Adirondack Trust Company Festival of Young Artists, a free community event in support of SPAC's mission to provide access to enriching arts programs for local youth. Following the Earth theme, the festival will celebrate the collaborative creativity of more than 600 of the Capital Region's brightest young dancers, musicians, singers, poets, and visual artists.
 
"Our end goal reaches beyond training for the purposes of creating better artists," says Moench. "We look at every artist as a whole person, and we see the arts as a vehicle to enrich their lives."
 
Building off the Move On! dance program and several of SPAC's existing initiatives that address the need for accessibility and inclusion in the arts, SPAC plans to expand and enhance programs in 2023 through partnerships with local service providers AIM Services and Saratoga Bridges.
 
SPAC Vice President of Education, Dennis Moench closed his remarks by introducing a performance by 23 students from the Move On! Dance program, provided at the SPAC School of the Arts in collaboration with Capital Region Dance Alliance, accompanied by 15 students from the SOTA Voices adult choir and SPAC teaching artists – Mary Anne Fantauzzi, Lydia Huibregtse, Mike Zygo, J.P. Hubbs, and Brian Melick. 
 
Facility Improvements:
Elizabeth Sobol shared news of key improvements to the SPAC facilities. Last year, with partners at Live Nation, SPAC began the crucial renovation of the amphitheater backstage – which had still been in its original state from 1966 – making the backstage a modern, comfortable and inviting place for the artists appearing at SPAC.
Also, thanks to Live Nation, The Performer's Road, also from 1966 – and travelled by patrons, artists and numerous vehicles of all sizes - has been widened, regraded, and repaved.
 
After extensive renovations, done in collaboration with New York State Parks, the Spa Little Theater is now home to a year-round schedule of concerts, presenting 25 events and welcoming more than 8,000 guests to what Sobol described as a "jewel of a venue."
 
As part of SPAC's mission to give equitable access to the arts, SPAC expanded its Classical Kids program, which reaches about 12,000 students and provides two free tickets per participating family. SPAC also continues its Summer Nights at SPAC, which provides free transportation, meals, and amphitheater seating to hundreds of children and family members at select performances during the summer season.
 
2022 Operating Surplus
SPAC announced that it ended the year with $470,000 of operating reserves. This was attributed to fundraising efforts supported by members, the Board of Directors, the general public and the utilization of $1.5 million in critical federal grants for budget relief from COVID. The reserves will be used to help SPAC navigate the challenging 2023 season ahead. 
SPAC Board Member News:
The board welcomed Keeley Ardman DeSalvo, Sharyn Hiter Neble, Chet Opalka, Dr. Jeffrey Ridha, and Sujata N. Chaudhry as new board members.
 
2023 Summer Residency Dates
 
Freihofer's Saratoga Jazz Festival
June 24 & 25
 
Chamber Music Society of Lincoln Center
June 11 – August 20
At Spa Little Theatre
 
New York City Ballet
July 18-22
 
The Philadelphia Orchestra
August 2-19
###
Press Contact:
Rebecca Davis
rdavis@spac.org
347.432.8832